by Way the Big Mouth
Whether you are in love, have been in love, hope to be in love, or hate the idea of being in love, you are at-least in luck! On Saturday February 15 from everybody is welcome to celebrate at Valentines Holiday Extendaday at Olive's in Nyack. This exuberant party is designed for anybody who enjoys the spirit of friendship and community, and believes deep down in that prophetic Beatles lyric "All You Need Is Love." Whether you are single or in a relationship, on this night we will come together in gratitude to celebrate with new friends and the people that mean the most to us.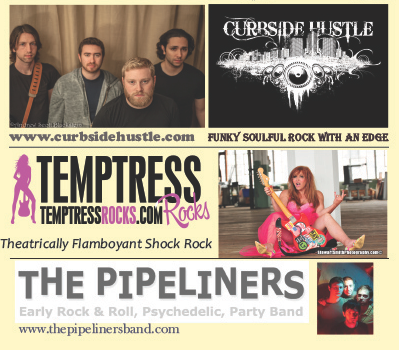 The evening consists of a broad range of musical styles, featuring three incredibly fun and high energy bands that each brings a little something different to the stage. Valentines Holiday Extendaday most definitely will please the diverse appetites of today's most eager music fans.
Kicking off the event, straight from the rock n' roll time capsule is The Nyack Pipeliners. This home town band is a throwback to early rock n roll, but play original songs with familiar sounds, reminiscent of bands that sound like early Rolling Stones, and a whole class of era bands that were more rock fun than artistic experimentation. Nostalgia with a twist, this band of lively minstrels will have you out of your seat and on your feet. The Nyack Pipeliners have a humble charm that abide to the perfect blend of swinging paired dance and head bobbing rock.
Following the Nyack Pipeliners on stage will be Temptress, a campy and theatrically entertaining rock band from NYC/Boston. Songs are sarcastically fun, full of killer hooks, raunchy laughs, and ultimately upbeat. They are a seasoned and gritty tongue and cheek party band, rowdy but all in good fun. Hard rock with a punk flavor, Temptress offer a playful attitude and an interactive live show. One might find themselves on stage for shots or to join along for a rousing chorus, or just learn some new dirty jokes.
Temptress has been on hiatus for a good stretch as the red headed vixen took on some surgical enhancements, a psychiatric work over, and a new outlook on life just shy of lobotomy. Now Temptress is back with a vengeance offering new material and a hunger to corrupt her unsuspecting audience. One never knows what to expect at a Temptress show, but it is safe to say that in the aftermath, each new fan will have a story to tell.
The evening ends on a high note with Curbside Hustle, a Nyack quartet that fuses rock, funk, and soul. Think Jack White and Wolfmother with the added DNA of Al Green and James Brown if you want to get an idea of their inspirations. Curbside Hustle has an expansive sound that is balls to the wall while smooth as a baby's bottom. Raspy male vocals, funky danceable extended grooves and memorable hooks that define every song, Curbside Hustle have just enough familiarity while still breaking new ground. I was hooked immediately by their recordings, while also informed by those in the know, that the Curbside Hustle charm takes the live show even further. They have opened for major label bands as diverse as Twisted Sister and Otis Day & the Nights and have made a name for themselves as an intense and uplifting live act.
The Valentines Holiday Extendaday is on Sat Feb 15 at 9p at Olive's in Nyack at 118A Main Street. Cover charge is $5. More info and RSVP on Facebook.
Way the Big Mouth is a music writer and promoter.