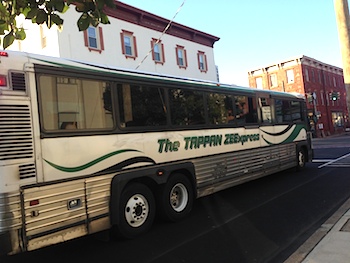 You don't need exact change to ride Rockand's TOR and TZx buses. But if you don't have it, you will need to get an electronic note from your bus driver.
That note is actually a "change card" with a magnetic stripe, created by new electronic fareboxes deployed on TOR and TZx buses last week. The credit on the change card can be used toward future rides. Fares will be deducted from the change card each time it is inserted in the farebox.
Change cards created on TOR bus can be used on TZx buses and vice-versa.
Because drivers will no longer have to make change, the new fareboxes expedite the cash fare collection process and speed boarding. "Rockland County is pleased to be able to move forward with providing advanced technologies and equipment on board our buses which will improve and modernize service for our residents," said Rockland County Executive Ed Day. Electronic fareboxes will also help county transportation planners generate, report and store ridership data more efficiently.
"We are encouraging riders to use exact fare or small bills if they do not want to receive a change card with a higher value," said Rockland County spokesperson Susan Meyer. "The largest denomination that the farebox will accept is a $20 and cash refunds cannot be provided," she said.
For TOR, the Cash Fare is $2 and the Senior/Disabled Cash Fare is 75 cents. For TZx, the Cash Fare is $3 and the Senior/Disabled Cash Fare is $1.
The first week of the new electronic fareboxes was largely glitch-free, said Scott Salotto Director of Strategic Communications for Rockland County.
A few additional farebox fun facts:
The farebox accepts coins and bills just like food vending machines. Riders should insert coins in the Coin Insertion Cup, one coin at a time. If paying with bills, riders should feed flat, unfolded bills (in any orientation) into the Bill Insertion Slot.
Riders who need to purchase a Transfer should still request one when boarding, but Transfers will now be issued by the farebox in the form of a magnetic stripe Transfer Card. Riders should request a Transfer before inserting their fare into the farebox. The Transfer Card is simply inserted into the farebox of the connecting bus.
Riders eligible for Reduced Fare should show their Reduced Fare Identification before inserting their fare into the farebox.
Riders paying with a SuperSaver or DSS ticket should simply hand the ticket to the driver, as they do now.
Riders paying with a Transfer from Clarkstown MiniTrans, Spring Valley Jitney or other eligible connecting service should hand the Transfer to the driver, as they do now.
TZx UniTicket riders should show their UniTicket to the driver, as they do now.
College Student Pass holders should show simply show their Pass with their Student Photo Identification, as they do now.
The county plans to introduce new payment technologies in phase 2 of the farebox project. TOR's system of tickets and passes will be replaced with a more streamlined system offering multi-trip cards and refillable cards designed to reduce the reliance on cash.