5a Wed update from the Rockland County Dept of Transportation: TOR and TZx buses are running up to 30 minutes late because of the storm. TRIPS service will resume at 9a.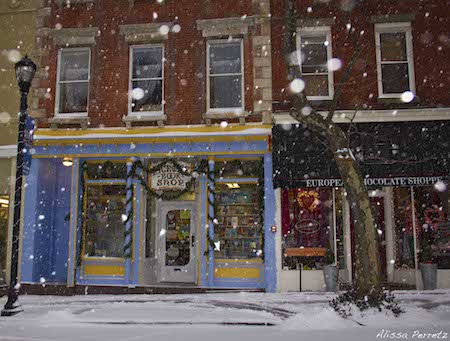 Nyack Feb 4 — We can blame the Dec and Jan snows on the weatherman. But after last Sunday, we know who to blame for storms like the predicted 4 to 8 inches of snow and 1/4 inch of ice expected to blanket the Lower Hudson Valley. It's clearly the fault of Punxsutawney Phil, the rascally rodent who failed to see his shadow last Sunday foretelling six more weeks of winter.
School was canceled on Tues in anticipation of the Wed storm — and white bread and milk were expected to be in short supply as the first flakes began to fall. If you don't have anywhere important to go tonight or tomorrow, don't go out and just enjoy the enforced day of solitude. Remember that someday soon — as hard is it might be to imagine — your kids will attend school for five days in a row. The weatherman has a special name for that phenomena. It's called Spring.
Here's the latest forecast from the National Weather Service:
Tues night: Snow, mainly after 1am. Low around 26. Calm wind becoming northeast 5 to 7 mph after midnight. Chance of precipitation is 100%. Total nighttime snow accumulation of 2 to 4 inches possible.
Wednesday: Snow, freezing rain, and sleet before noon, then freezing rain likely between noon and 3pm, then a chance of freezing rain and sleet after 3pm. High near 33. Northeast wind around 9 mph. Chance of precipitation is 100%. New ice accumulation of 0.2 to 0.4 of an inch possible. New snow and sleet accumulation of 1 to 3 inches possible.
Wednesday night: A slight chance of snow before midnight. Mostly cloudy, with a low around 20. Northwest wind 8 to 10 mph. Chance of precipitation is 20%.
Source: Forecast.Weather.gov
Photo Credit: ©2014 Ali Perretz