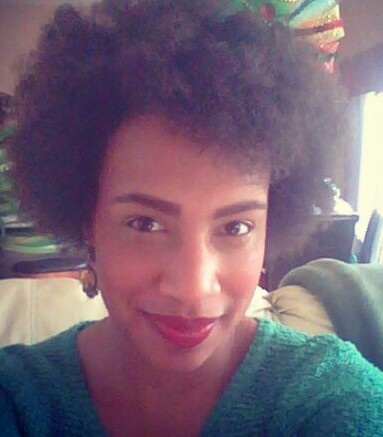 For over a century, our region has been home to extraordinary artists. Local Arts Index highlights the work of individuals who continue our community's rich creative legacy.
Meet Jade Watkins.
How Did You Become an Artist?
I suppose I just always was. I've been creating and painting since I can remember. My parents had artistic outlets; my father is proficient in Jazz drumming, "B-Bop" and has been an early Hip Hop and House DJ since the late 1970s, and my mother has an impeccable eye for rich color schemes and interior décor.
Both were instrumental in exposing me to all things art and expressive growing up, from Sunday strolls throughout Greenwich Village, to visiting the Met and Schomberg Center. When I came of age this extended to being introduced to places like the historic Café Wha? and The Blue Note Jazz Club.  I fell in love with different cultures, the influence of music, mixing colors, and the joy associated with creating something that began as a mere abstract thought.
Until the summer of 2013, I had yet to show my work to people outside of my family and inner circle. It was through the Nyack Art Collective that I've been given the opportunity to display my art to the public. Since joining in July 2013, the NAC has been the most wonderful source of support, confidence and friendship. Even though I've been an artist all my life, I now truly feel like one.
What kind of art do you make?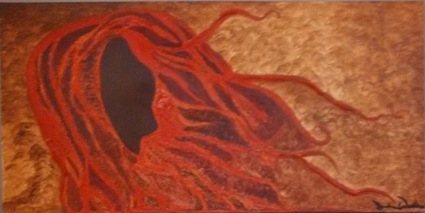 I make what I consider to be expressionist and abstract paintings. My art is charged with a lot of personal emotion and symbolism, but I also like for others to find something in it that resonates with them as well. If I can connect with someone through my art, I feel as though I've done my job.
The majority of my works are composed of a variety of media; particularly acrylic paints, air-drying clay applied and molded to canvas and mediums of varying translucency/opacity and texture.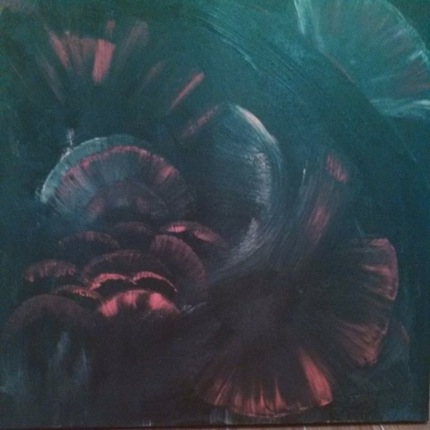 I am very BIG on texture. I love the "pop-out" affect that I can execute using these materials. I'm also a lover of colors. I actually prefer to mix my desired colors rather than buy pre mixed colors; working from strictly Blue, Red, Yellow, Black and White. The good news with this is that I end up with some beautiful pigments. The bad news is that sometimes they're hard to recreate- but that's part of the fun!
What's Your Muse?
The duality associated with being a female which I personally feel directly mirrors the duality of nature. Both are quite powerful creatures. Both can be vivacious, seductive, warm, beautiful and nurturing. Both can also be destructive, dark in perspective, calculating and unpredictable. Both do what they want without apology or explanation, and the masses are nevertheless enamored. I absolutely love that and it's something I aim to personify in my work (and in life for that matter!).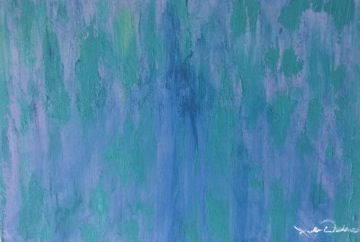 Lately, I find myself painting with Florence + The Machine playing in the background. If my art could sing, I would want it to have the voice of Florence Welch; passionate and empowering!
What's Next?
My artwork will be displayed at the p.ross boutique at 89 Main St. on February 1, as part of a heart-themed art group show for Nyack's "Have A Heart" day to night event for Heart Disease Awareness Month.
I will also be participating in the Nyack Art Collective's First Friday and Wine Crawl event on February 7th, where my work will be on display at Cloud 9 Frozen Yogurt Café. Down the line, I will also be showing my work at the Art Café for the month of June which I'm really excited about!
In my free time, I'm slowly building a following via social networks, where I share my art and thoughts. I can be followed on Instagram: @jade_watkins_art and Twitter: @JadeWatkinsArt .
Local Arts Index is sponsored by Maria Luisa, 77 South Broadway and ML by Maria Luisa, 75 South Broadway, Nyack, NY