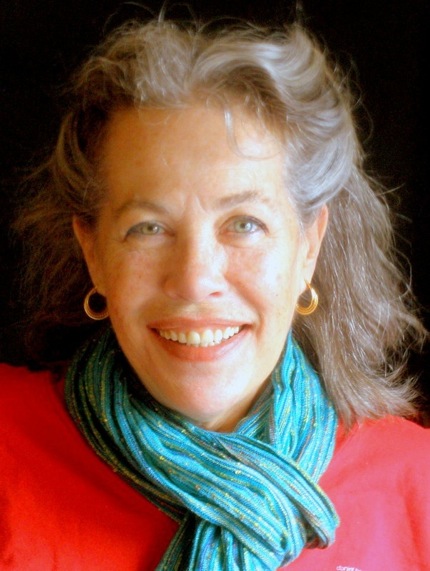 For over a century, our region has been home to extraordinary artists. Local Arts Index highlights the work of individuals who continue our community's rich creative legacy.
Meet painter Leigh-Anne Eagerton.
How Did You Become an Artist?
I was born in Pensacola, Florida. The first inkling of a life-long fascination with line occurred when I realized my name could be spelled out in letters. When my mother wrote it out, and gave me the pencil, I found it thrilling to make marks on paper.
Right out of high school, I worked for two years for Sherwin Williams Paints, mixing colors and matching exact hues according the customer requests. I was also a consultant regarding materials and the proper kinds of paint needed to cover them. This experience with color and materials was valuable to my later experience as  a trompe l'oeil  and decorative painter.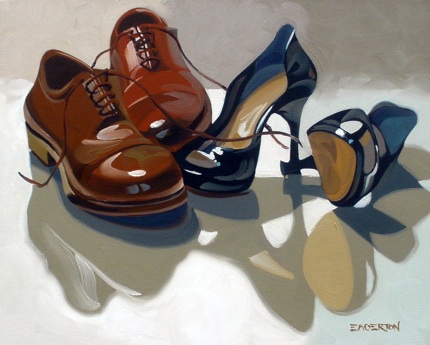 Moving to New York in 1980, I attended eight semesters of life drawing classes at the State University of New York at Purchase.  Working with Roger Hendrix, I learned to get dimension from line and to work very quickly, as models changed position often. Life drawing in these classes taught me to see well, and to be able to translate the visual from eye to hand in realistic dimension and proportion.
What kind of art do you make?
After years of working in water-based media, I transitioned to oil paints under the tutelage of Karen O'Neil, a colorist and teacher at the Arts Students League.  Something happened when I switched from acrylic to oil… everything clicked.
All of my paintings have a foundation in what I call stylized realism. They utilize the strong composition qualities of clear planar and linear breaks on the surface, creating jewel-like facets.
I paint from life, all at once, marathon style, Alla Prima.
What's Your Muse?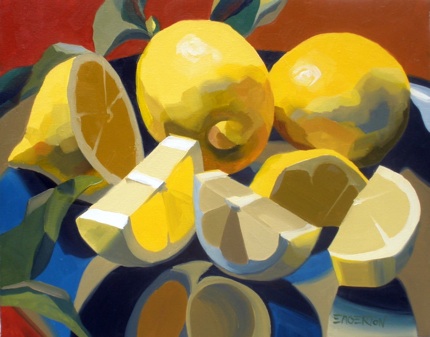 My father was a Navy pilot, so my family lived in several places around the world, but none impressed me more than Japan. Living there for three and a half years, from the age of 6,  I started school and was imbued with the rich Japanese culture. I learned the language, made origami, and dressed in a kimono for school festivals.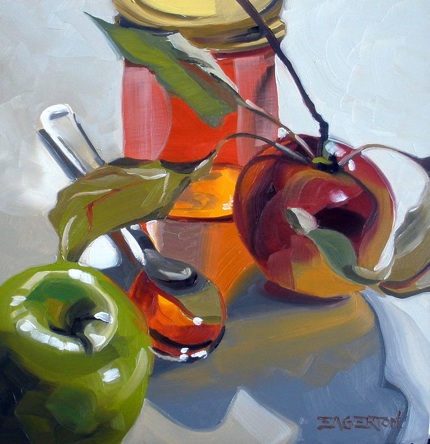 When I was 8 years old, my sister noted my talent for drawing and gave me my first sketch pad and pencils.  With a little encouragement, I was inspired to draw endlessly, using drafting pens, that allowed me to make lines of different widths.
My experience with Japanese art was telling, and I filled many blank books with symbolic and realistic drawings throughout my childhood.   I also devoured illustrations and loved the way that illustrators were free to interpret stories visually.  As a young woman, I poured over illustrations that I considered great art, learning from the work of J.C. Leyendecker, Howard Pyle, N.C. Wyeth, and Aubrey Beardsley.
What's Next?
My work is mostly still-life painted in a controlled environment. When we move to Florida, I want to do En plein air (outdoor) painting.
If you would like to say good-bye to Leigh-Anne, she will be participating in her last First Friday on March 7 at RJ's, 81 South Broadway from 5-8p.
To see more of Leigh-Anne's work, visit eagertonoilpainting.
Local Arts Index is sponsored by Maria Luisa, 77 South Broadway and ML by Maria Luisa, 75 South Broadway, Nyack, NY