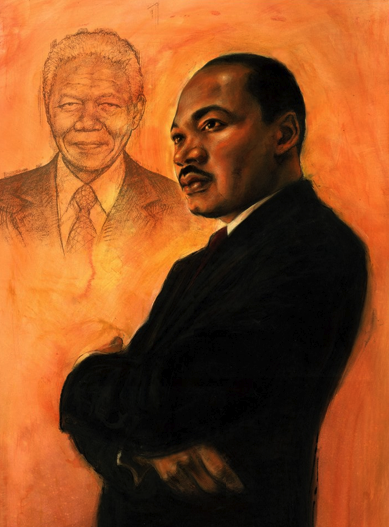 Today is the 28th observance of the Martin Luther King Jr. national holiday. Government offices and schools are closed. An annual assembly at a local church today and an oratory contest in early February provide two local opportunities to reflect on the legacy of the civil rights leader.
Nyack's annual Martin Luther King Day interfaith service will be held today, Monday, January 20 at 2p.  Hosted by Rev. Willie L. Hairston, the event is held at Pilgrim Church at 80 N. Franklin (corner of High Ave).  In most years, seats are scarce, so if you want to avoid standing, arrive early.
The celebration of life continues on Feb 8, 2014 at 7p when the Nyack Center holds their 17th Annual Black History Month Celebration.  The centerpiece of the intergenerational event is an oratory contest, now in its third year. Top finalists of oratory contest will perform at the event. Scholarships will be awarded.
Individuals who have contributed to the lives of African Americans and our community will also be honored. This year's list includes: Hon Toney and Idette Earl, Constance Frazier, and MarQui Julien.
King would have been 85 this year if he had not slain by an assassin's bullet in Memphis, Tennessee on April 4th 1968.
The Nyack Center is located at 58 Depew Avenue at the Corner of Broadway and Depew.
This evocative and ethereal illustration was created by Janet Hamlin.