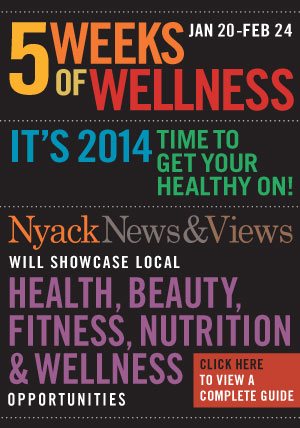 Starting today, NyackNewsAndViews launches Five Weeks of Wellness, an initiative to support local health, beauty, fitness and nutrition venues. Each week, we'll feature a local health and wellness practitioner. Accompanying the series is a local health and wellness guide listing over 40 businesses that help you achieve inner peace, outer beauty and better health. Look forward to these profiles over the next five weeks:
Jan 27: Paul Heitzner, Yoga and Dance
Feb 3: Judith Rose, Yoga
Feb 10: Sarah Hatkoff, Massage
Feb 17:  Nyack Hospital's Acupuncturist
And be sure to check out this comprehensive local guide to Spas, Yoga studios and instructors, Massage, Fitness Nutrition and Beauty:
Going back to the days of Pierre Bernard, the Magnificent Oom who built an ashram on the land that is now Nyack College, the healing arts have found a home and receptive audience in Nyack.  The region's hospital is located here and our weekly farmers market promotes nutrition by making healthy, locally grown and produced food available.
It's a New Year people in a village that has plenty to offer those that want to eat, feel and look better. Let Nyack News and View help you get your healthy on.