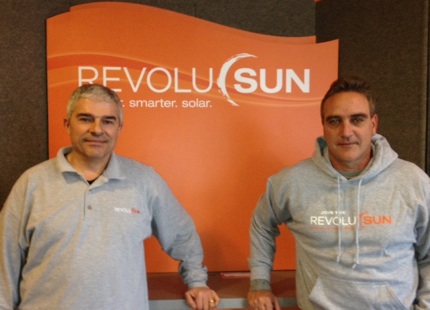 by Clayton White
From an unassuming storefront in downtown Nyack, businessmen Nicholas Grisanti and George Landi have embarked on an ambitious enterprise: empowering Hudson Valley homeowners to harness solar energy.
Grisanti and Landi began their business in April 2013. Their franchise of Hawaii-based Revolusun equips homeowners with a state-of-the art solar energy system that can feed the regional power grid instead of drawing from it. "Consumers don't like feeling out of control when in comes to utility charges. This gives them some control," says Revolusun Project Manager Steve Conway.
"Thirty years ago you had to be very motivated to do solar. The technology has improved and now solar is residential-user friendly," says Conway. "It can't provide 100% of your energy, but going forward we believe it will be a part of the mix."

Going from prospective customer to solar-power participant is a multi-stage process, says Conway. Solar energy service providers like  Revolusun perform an energy analysis of each customer's home to determine its solar potential. Variables in this analysis include roof size and its exposure to direct sunlight. The square footage on the roof and its north-south alignment determine how much electricity the system will yield. "Once the analysis is completed, we show the client how much energy the system will produce and how much they will save on their electric bill," Grisanti says.
Grisanti says the savings from solar can be big. "In addition to the green aspect, the savings on utilities can be substantial," he says. "Utility prices rise by about three or four percent a year on average. With solar, you know what you are paying."
Landi estimates that people who invest in a solar system see a rate of return from 9-16 percent. "That's the reason investors are out there, money is coming into this market," he says.
Before getting into the solar-power business, George Landi worked as a foreign-exchange trader and later as a real-estate broker in New Jersey. "I wanted a new, more exciting career, one that provided great benefit to homeowners, as well as the environment," Landi says. Nicholas Grisanti left a career trading oil futures contracts to pursue a business with more green potential. "I've come full circle. I went from working with a carbon energy source to a nice clean, renewable source," Grisanti says.
Business has been brisk in the ten months since Revolusun's inception. The franchise operates solar installations in New York City, Yonkers, Westchester, Orange County, and New Jersey. The team at Revolusun installs an average of 15 systems per month. Solar-power has been given a boost in recent years by the enactment of a 30 percent federal tax credit and a 25 percent New York tax credit worth up to $5,000. These incentives take a typical gross cost of $30,000 down to a net cost of around $13,500. Revolusun offers an array of financing options, including a zero-down lease.
Despite the benefits, the outlook for solar business in the Hudson Valley is not without its challenges. The regulatory framework for solar installations has not kept pace with the rapid changes in the economic fundamentals of the industry that have led to its expansion.
"Like every market, it takes some time. Homeowner associations don't know what solar is, we have to go out and explain it. We're trying to get the word out: Helping the environment and saving people money." Landi says.
"One stumbling block has been that people don't understand the 30% tax credit from the IRS unless they're an accountant. They don't understand the difference between a tax credit and a tax exemption," Grisanti says. "We get bogged down in tax credits, financing, building permits. Each community has different rules regarding building permits."
"Installation is the easy part. You put on the racks install the modules, and the electrician wires it into the system. It's everything that comes before it that's difficult, going through the legal gymnastics," Conway says.
According to the partners, the choice to locate in Nyack was not a difficult one. "New York is one the leading states for solar. We wanted to be on the Hudson, along the 287 corridor. We got to Nyack and fell in love with it. We wanted to be near the Tappan Zee Bridge in a hip little town," Grisanti says.
"It's a great place for meetings, great place to meet clients, the downtown area is one of the best," Landi added.
Solar Energy Service is located at 38 S. Franklin St., Nyack, NY. Visit newyork.revolusun.com.
Clayton White recently moved to Nyack after graduating from college in Ohio with a degree in economics, and hopes to find employment in New York City.