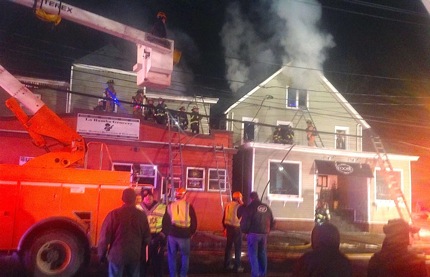 By Bill Demarest
A fire that damaged two buildings and put four families out in the cold Sunday night in Sparkill is being blamed on an electric space heater.
Rockland County Director of Fire and Emergency Services Gordon Wren Jr. said today that a heater in an upstairs apartment unit at 623 Main St. was too close to clothing, leading to the fire. As a result, Wren said he and fire officials throughout Rockland County are again urging local residents to use extreme caution with these types of heaters.
"With more extreme cold coming, we want people to be careful how they use these space heaters," Wren said.
Sunday's fire damaged two buildings housing businesses – including Roost restaurant and La Bomba Grocery – and put four families living in upstairs apartments out into the bitter cold. The American Red Cross says it assisted 21 adults and four children in four families, and provided emergency shelter for one family that did not have any place to go.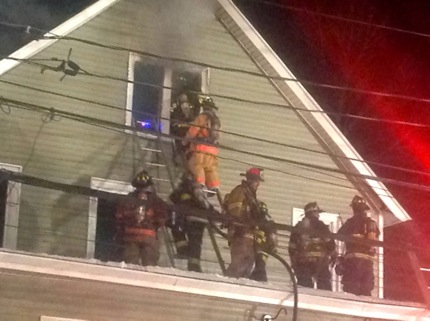 Wren said Rockland County fire investigators traced the fire to a space heater at 623 Main St. Fire officials suspected on Sunday night that a heater might be the cause of the fire, and the investigation confirmed that suspicion.
While electric space heaters are legal, Wren said extreme care needs to be used in the placement and use of such heaters – especially in bedrooms. Wren said there have been numerous incidents in Rockland County over the years in which clothing, blankets, paper or other items placed on heaters or that have fallen on heaters have caused major fires.
When buying and using an electric space heater, follow these general safety guidelines from the U.S. Department of Energy:
Electric heaters should be plugged directly into the wall outlet. If an extension cord is necessary, use the shortest possible heavy-duty cord of 14-gauge wire or larger.
Always check and follow any manufacturer's instructions pertaining to the use of extension cords.
Buy a unit with a tip-over safety switch, which automatically shuts off the heater if the unit is tipped over.
Wren additionally said that care must be taken in the placement of electric heaters so that they won't be a fire hazard. He said:
Keep heaters away from clothing and other material that can catch fire.
Use caution in the placement of the heater – don't put an electric heater on top of a television or a plastic table.
If you are using an extension cord, if it is thinner than the cord on the heater itself get a heavier extension cord.
Don't put a heater too close to a bed. Blankets, sheets, clothing and other items frequently fall off beds and can land on the heater.
Don't leave a space heater unattended.
Replace aging space heaters with new models.
Make sure your smoke and carbon monoxide detectors are in good working condition.
In addition to making sure the battery is fresh, firefighters warn residents to make sure their smoke detectors are not too old. Aging smoke detectors might not work properly.
In Sunday's fire, none of the residents of the two buildings affected were injured and no firefighters were injured in battling the blaze. Wren said Sparkill volunteer firefighters did an excellent job in getting the fire under control.
Sparkill Fire Chief Chief Michael A.Yannazzone Jr. said flames were shooting from the buildings when firefighters arrived at about 9:40p. He said firefighters were able to knock down the bulk of the fire quickly, but had to track down stubborn pockets of fire that were on the third floor of 623 Main St. and in its attic space.
Wren also noted that firefighters working on the roofs of the two buildings had to cope with icy conditions. And, the steep slope of 623 Main St. was tough for firefighters to work on as they cut holes into the roof to reach fire in the attic.
Firefighters of Sparkill's John Paulding Engine Co. No. 1 were assisted by volunteer firefighters from Piermont, Orangeburg, Blauvelt, Nyack, Tappan and Northvale, N.J. The neighboring departments assisted at the fire and also were on standby in case of another emergency.
Bill Demarest blogs about news in Nyack and Rockland County at NyackFreePress.blogspot.com.