Nyack Dec 14 — Might be a little early for a White Christmas, but everyone should enjoy it while it lasts. Slowly and safely. Here's the latest news on what's going to happen — and what's not going to happen because of the weather (think cancellations).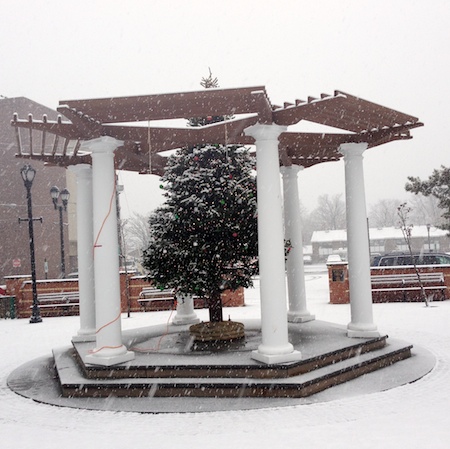 Latest Forecast from the National Weather Service (10a 12/14/2013):
Today: Snow. High near 26. East wind around 10 mph. Chance of precipitation is 90%. Total daytime snow accumulation of 1 to 2 inches possible.
Tonight: Snow before 2am, then rain and sleet. Temperature rising to around 35 by 5am. Breezy, with an east wind 11 to 20 mph. Chance of precipitation is 100%. New snow and sleet accumulation of 4 to 8 inches possible.
Cancellations:
Rockland Choral Society Sat 1214 concert: Cancelled. Ring in the Holidays with the Rockland County Choral Society on Saturday, Dec. 14 at 3PM at Living Christ Church
The Nursery School of the Nyack's special performance today featuring Nyack's Mario The Magician has been canceled because of the weather.
Due to winter storm conditions, the Historical Society of the Nyacks Museum will be closed today.
Also: O&R declared a company-wide Storm Watch on Friday scheduling additional overhead electric line crews this weekend to make repairs if storm-related damage develops. The Company's emergency response group is on standby for potential mobilization if necessary.