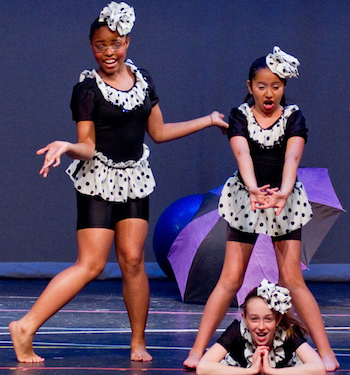 by Ashley Tedino
Take a break this holiday season and watch someone else "break a leg." There's lots of great theatre that kids can enjoy in the audience and on stage in Rockland, Westchester and Bergen counties.
Nutcracker: Rockland Youth Dance Ensemble
Friday, December 13, 2013 – 7p
Saturday, December 14, 2013 – 1p and 4p
Sunday, December 15, 2013 – 1p and 4p
Bring the whole family to come and enjoy the performance of the Nutcracker. The Rockland Youth Dance Ensemble has presented this ballet performance for over 30 years to residents in and around Rockland County. The performers of the Nutcracker are students of classical ballet as well as professional dance and theatre performers. Tickets are $20 and all seats are assigned. For ticket information, please call (845) 624-7933. The Cultural Arts Theater is located at SUNY Rockland Community College, 145 College Road, Suffern, NY 10901.
Rockland County Choral Society – Joined by the Handbell Choir of Pearl River United Methodist Church and Nyack Soprano: Michèle Sorel
Saturday, December 14, 2013 3p
Ring in the holidays with the Rockland County Choral Society as they perform seasonal favorites with some special guests. Michèle Sorel will be singing excerpts from Handel's Messiah. The Handbell Choir of Pearl River Methodist Church will be joining in as well for a pleasant afternoon. Tickets are $20 for adults and $15 for students and seniors . The Living Christ Church is located at 151 S. Broadway, South Nyack, NY 10960
Angelina Ballerina: The Very Merry Holiday Musical
Sunday, December 15, 2013 1p at Bergen Performing Arts Center (PAC)
A holiday dance pageant is being planned by Angelina and her friends. When there is a mix-up with the pageant, Angelina and her friend's have to work together to try and save the day! This musical is perfect for children between ages 3-12. Ticket prices vary between $29-$39. Buy tickets online at BergenPAC located at 30 N. Van Brunt Street in Englewood, NJ.
Shrek the Musical – The Garage Theatre
Friday, December 13, 2013 – 8p
Saturday, December 14, 2013 – 8p — Snowed out!
Sunday, December 15, 2013 – 2p
The whole family will enjoy this show performed by kids ages 8-18. Families will join in on the fun at this very entertaining show which includes everyone's favorite green ogre! Tickets are $20 for adults. Tickets for seniors and kids 12 and under are $16. Buy tickets online at GarageTheatreGroup.TicketLeap.com. The Becton Theatre is located on the Farleigh Dickinson University Campus at 960 River Road in Teaneck, NJ.
Spring 2014 Helen Hayes Studios Rehearsals Start in January!
Helen Hayes Youth Theatre is holding January auditions for The Jungle Book (ages 5-7, 8-11), Godspell (ages 8-14) and Little Woman (15-18).  The fee is $300 per child. For more information on how to audition, visit HelenHayesYouthTheatre.com. Helen Hayes Studios are located at 142 Main St, Nyack.