So many days, so many images. If you were a photographer and were asked to choose your favorite photo amongst the hundreds or thousands you shot in 2013, which picture would you choose? That's the challenge we gave to some of our favorite local photographers. Pick a picture and tell us why it's your favorite.
Today we hear from Ray Wright, who lives in Nyack.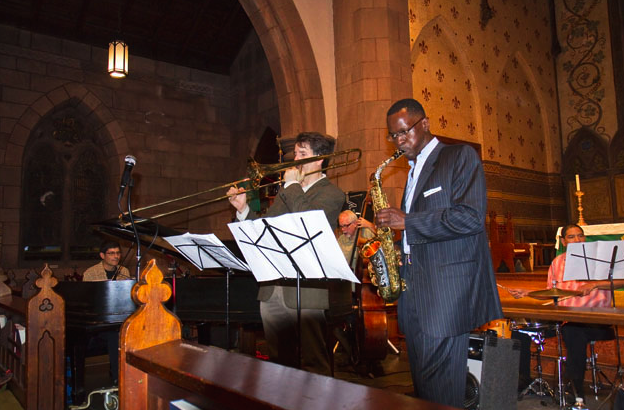 I have been enjoying photography this year. In January till March, I was photographing bold eagles in West Nyack, Lake Tappan and Northern Rockland along the Hudson.
All year, I feed birds and sit on my side porch with my 400mm lens taking pictures.
I have also covered many events including the Halloween Parade, Fireman's Parade and the Nyack fireworks.
During high school, I developed an interest in jazz.  When I was director of the Hopper House,  I came up with the idea of Music in the Garden.  I talked Bert Hughes into chairing it with me.
This year the concerts were great.  Because of inclement weather, one performance was held at Grace Episcopal Church.
The Matt Havilland Quintet played plus Mark Gross on alto and soprano sax.  I photographed the concert from the front row and bought Gross' album the next day.  It was a great experience and my favorite photo of the year.
Ray Wright was the official photographer for Wright Brothers Real Estate, an agency that his father and uncle founded and that he ran for 40 years.  Ray's photos are available for sale at Bee Alive, 19 North Broadway, Nyack, NY. Photo credit: Ray Wright
See also:
©2013 Ray Wright