So many days, so many images. If you were a photographer and were asked to choose your favorite picture amongst the hundreds or thousands you shot in 2013, which photo would you choose? That's the challenge we gave to some of our favorite local photographers: pick a picture and tell us why it's your favorite.
Today we hear from Stony Point resident George Potanovic, Jr.
Waiting for the Approaching Storm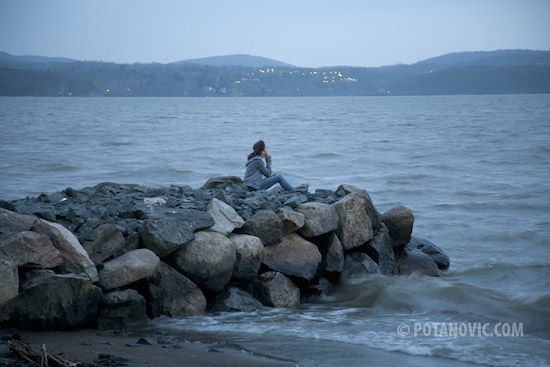 My 12 year old daughter Allison was the subject of one of my favorite photos from 2013 while she was sitting on the Stony Point seawall observing the approaching stormy skies and weather patterns above the Hudson River in April at Haverstraw Bay. Allison loves science, especially weather, and dreams of someday becoming a storm-chaser. Despite my wife Joanne's trepidation at the thought of Allison actually chasing tornadoes, we both totally encourage and are extremely inspired by her passion. This photograph captures that moment and emotion for me.
George Potanovic. Jr. has lived in Stony Point for over 30 years and worked as a photographer, graphic designer and writer for IBM Corporation in Marketing Communications, as Director of Media at the New York School for the Deaf in White Plains and as an adjunct professor at the Rockland Community College. He works as a professional commercial photographer and graphic designer, teaches photography classes and workshops and in 2012 was the author of a book produced through SUN STUDIOS DESIGN on the history of Lederle Laboratories for Pfizer Corporation. See more of his work and contact him at Potanovic.com.
©2013 George Potanovic, Jr.