So many days, so many images. If you were a photographer and were asked to choose your favorite photo amongst the hundreds or thousands you shot in 2013, which picture would you choose? That's the challenge we gave to some of our favorite local photographers. Pick a picture and tell us why it's your favorite.
Today we hear from Elijah Reichlin-Melnick, who lives in Nyack.
The New Twin Towers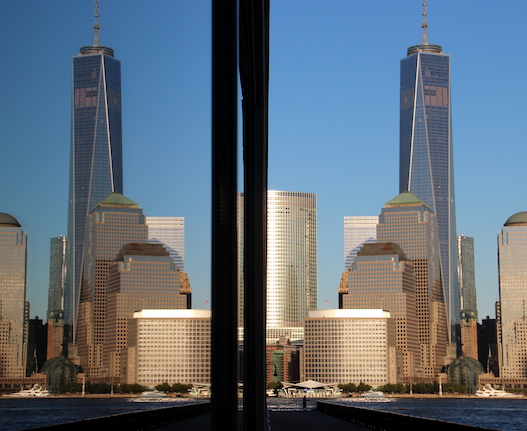 It was a spectacular September afternoon, less than a week before the anniversary of the 9/11 attacks. On my way home to Nyack following my first day of graduate school classes in New Brunswick, I decided to take a detour to Jersey City in the hopes of getting some good pictures of the New York City skyline with the beautiful late afternoon light. I'd never been to the Jersey City waterfront before, but was gambling that the views from there would be as good as the ones along the Hoboken waterfront a few miles north. It was well worth the trip.
For anyone who hasn't been—go. It's the best view that I know of the skyscrapers of lower Manhattan, even better than the view from the Brooklyn Bridge. After a few minutes walking around and shooting some basic panoramas of the scene I tried to get a bit more creative. Walking alongside a mirrored glass building, I noticed that the new Freedom Tower was reflected in the smooth glass. I pressed the camera as close as possible to the side of the building and was able to get this picture of the new World Trade Center and its reflected duplicate–a new set of Twin Towers.
Avid photographer and Nyack resident Elijah Reichlin-Melnick is studying for his masters in city and regional planning at Rutgers. You can see more of his work on Facebook.