So many days, so many images. If you were a photographer and were asked to choose your favorite photo amongst the hundreds or thousands you shot in 2013, which picture would you choose? That's the challenge we gave to some of our favorite local photographers. Pick a picture and tell us why it's your favorite.
Today we hear from Blauvelt resident Art Gunther.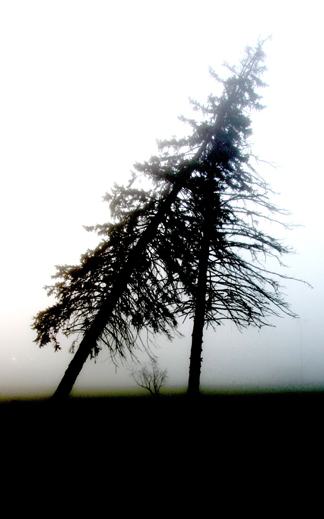 LEAN ON ME," said the healthy pine to its brother, the roots of which were torn from the earth during Superstorm Sandy in fall 2012.   In a metaphor, how many Rocklanders required help as they did without power and heat, some for weeks?
The mighty pine, a symbol of the Northeast and a non-deciduous offering to get us through sometimes harsh and colorless winters, has shallow roots, a reminder that life is fragile but enduring. That some pines grow and stand for decades is due to the closeness of their neighbors in a forest buddy system.
But Sandy was extra-mean, and this poor pine at the Nanuet School District park off Convent Road (former St. Agatha land) had just one brother, to its left, and none to the right, making it vulnerable. It tilted in a great burst of wind and could not be righted. Nothing could "put this Humpty-Dumpty together again."
And so the metaphor went for Rockland in the Sandy aftermath. Not all came back as they were, but in the troubles, there was certain and sure neighborly help.
Arthur H. Gunther, a trustee of the Edward Hopper House Art Center, is a retired Rockland County newspaperman who writes regularly at TheColumnRule.com. He continues his career photography and is a painter as well.

Photo Credit: ©2013 Arthur H. Gunther