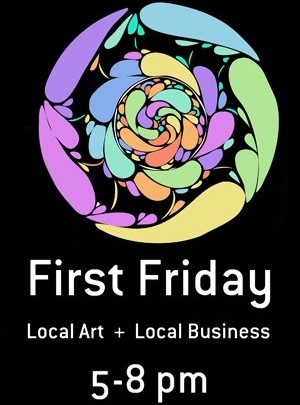 December's First Friday embraces the spirit of the season. Attend Winterfest with Sukey Molloy & Friends at the Nyack Center at the corner of Depew Avenue and South Broadway at 6:15p. The  multicultural holiday concert for families and children is best for kids seven and younger.
Casa del Sol will host an indoor buffet picnic at 7p. Bring blanket for your kids to sit on and enjoy a children friendly menu. At the end of the evening, leave the blanket behind for Rockland's food pantry, People to People.
The next Local Arts Index group show will be held at ML by Maria Luisa, 75 S. B'way from 5-8p, featuring Jamie Baldwin Gaviola, Donna Davies Timm, Janet Hamlin, Tracy Kachtick-Anders, Ray Lagstein, Eric David Laxman, Alison Perry, Chris Randolph, Lynn Stein and Tony Ziegler. Meet the celebrated local artists profiled each Saturday in the Local Arts Index column on NyackNewsAndViews.
Here's a guide to Nyack Art Collective's monthly cultural festival.
Exhibition Venues
Main Street (above Franklin Street)
The Franklin Antique Center – Chris Machlin & Elaine Schloss
Main Street (below Franklin Street)
Cloud 9 – # 120:  Shawna Handke
Sign of the Times: #112 Dan White
Vincent's Ear-  #112:  Cynthia Shaw
Casa del Sol – #104: Lauren Rudolph
Nyack Village Theatre- #94: Nina Berlingeri – Film @ 7p
Little Flower Shop –  #95 1/2: Natalie O'Donnell
Harry's Burritos – #90: Tony Ziegler
p. ross boutique: #89: The Artitsts of p.ross
Johnny Cakes: #84: Elaine Schloss
Temptations – #80 1/2: Cass McVety
Starbucks – #80: Will Savage
Park Street
North Broadway
Edward Hopper House Art Center – #82: Natasha Rabin & Arthur Gunther
Lorybird – #23: Colleen McGowan:
Bee Alive – #19: Lauren Randolph
South Broadway
Sweet Spot- #11: Colleen McGowan
Saffron trading Co. – #14 Group Ornament Show
Art Café -#65 Lawrence Hultberg
Sanctuary – #60
Pizza Bistro – #64  Tracy Kachtick-Anders
ML by Maria Lusia – #75: Local Arts Index Exhibit
RJ's – Leigh Anne Eagerton: 81 S. Broadway
Amis Gallery  #79 1/2 John Henry
Somos – Doris Shepherd Wiese: 78 S. Broadway
Hudson Avenue
Gagliardi Studio & Gallery – #39: Holiday Part 7p-2a