by Claudia Lifton-Schwerner
Nyack High School and SUNY Oswego graduate Claudia Lifton-Schwerner won a Facebook contest to blog on behalf of Global Vision International (GVI) about their animal and environmental protection projects around the world. Her first stop was the Yucatan Peninsula of Mexico followed by Fiji, Thailand and Kenya. Her latest blog post is from South Africa.
Over the past six weeks I have been completely immersed into the world of the wild.  I have experienced what it means to live harmoniously amongst the magnificent creatures of the African bush.  I have loved spending my days researching and learning about the wildlife of Karongwe and I have enormous respect for the staff that has dedicated years of their lives to the animals they love. It amazes me how committed they are to protecting the animals in Karongwe and all of South Africa, but they can only do so much.
Several species of South African wildlife have been depleted to near extinction due to development, habitat loss, poaching, the exotic wildlife trade, and human population growth.  The animals that define this magical country – cheetahs, lions, leopards, rhinos, and several other beautiful, but less recognizable species – are quickly diminishing.  In fact, 19% of the 295 mammal species in South Africa were labeled as vulnerable, endangered or critically endangered in 2004.  Since then, several more species have been added to the list, and the population sizes of the animals already listed have dropped significantly.  Moreover, these are just the mammals of South Africa.  Discussing the alarming loss of several species of birds, reptiles, amphibians, fish, invertebrates and vegetation would take up far too many pages to fit into one blog.  It is important to note that many of the losses in reptile and bird species are directly connected to the illegal capture of these animals from their natural habitat to be sold as pets so they can spend the rest of their lives as an ornament in a cage.  While these drops in population are mostly a side effect development and the resultant loss of habitat many cases are due to the blatantly selfish, barbaric and illegal actions of humans.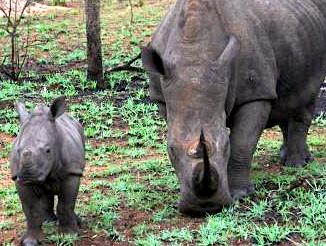 The case of the rhinoceros is particularly devastating and infuriating.  Rhinos are intelligent, social, emotional animals that are a vital part of Africa's tourism industry and its legacy.  Recently, the Western black rhino was declared extinct by the IUCN (International Union for Conservation of Nature).  The remaining five species of rhinoceros are all listed on the IUCN's Red List of threatened species.  Three of them are listed as critically endangered.  According to criteria of the IUCN's Red List, this means that only 3% of their population remains.  The primary cause of this is alarming reality is poaching.  The brutal act of cutting the horn off of a rhino and leaving it to bleed to death is responsible for the death of 891 South African rhinos in 2013 alone.  South Africa is home to 83% of all African rhinos but their numbers are diminishing so quickly that it is hard to see a future for them at all.
As someone dedicating my life to animals these numbers and statistics are more like blows to the stomach.  It haunts my very existence to know that due to the heinous actions of my species, so many innocent, sentient beings may no longer exist within the next decade.   People around the world need to wake up and see this for what it is – an atrocity and a black mark on our morality.  We must educate ourselves on the ways in which our species is a detriment to this planet, and try our best to make a positive impact.  It is our responsibility to fight for these animals – to finally live up to our name and show some humanity.