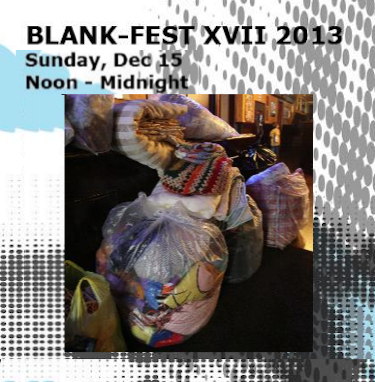 What do you get when you connect good will, Rock 'n Roll and a community that cares about those less fortunate? 16 years of Blank-fest in Nyack — and a special event worthy of its own Wikipedia page, too. Organizers say they've collected over 11,000 total donations and spawned similar events all over the US and Canada since the Nyack-based show's 1997 inception.
The 17th annual show on Sun Dec 15 brings local, NYC-based, indie and major label record label bands to the Nyack's Hudson House to benefit New York City's homeless. It's the rare charity that gives you a warm fuzzy feeling by donating a warm fuzzy object: a suggested donation of one blanket (any condition) will get you in the door. Volunteers will distribute the blankets to the New York City's homeless on Christmas eve.
"When we started handing out blankets in '96 we had no idea that this would still be going," says Kenn Rowell, who is front man for his NYC-based band, The Baghdaddios, "but now that we've been at it for this long, I honestly couldn't imagine a holiday season without doing this. The Nyack native says that putting the annual event together is both exhausting and exhilarating. "I'm exhausted – but energized and running on adrenaline at the same time!"
The event is organized by Rowell and Chuck DeBruyn. Rowell is also the MC for the 12 hour show.
In addition to Rowell's band, this year's show features EMI alum Patti Rothberg, Bobby Steele (original member of The Misfits, now with The Undead) and a reunion of DeBruyn's band, the Horse You Rode In On. Also performing are Tim O'Donohue, Frank Ocasio (of The Authority), Cruel Season, Frankie D., Johnny & The Alimonies, The Rewd Onez (featuring internet webcast personality Rew Starr), Kama Linden, & Amateur Empire (featuring Peter James of Warped Tour standouts: Reflective Insight).
Blank-fest 2013 goes from 12n to 12m on Sunday Dec 15 at the Hudson House, 134 Main Street in Nyack. Now in its 17th year, the blankets-for-homeless effort has spawned several satellite shows as close as New Jersey and as far away as Wisconsin, Florida and Vancouver, as well as Nottingham, England.  For more info go to BlankFest.org or email Kenn Rowell.
Blank-Fest 2013 Line Up