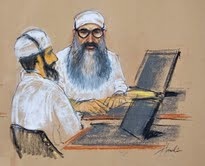 Janet Hamlin's pastels have taken her to the far reaches of justice in a military courtroom on Guantanamo Bay. On Friday, those same tools will take her to South Broadway in Nyack to show work from her book, Sketching Guantanamo: Court Sketches of the Military Tribunals, 2006-2013.  AP Courtroom Sketch Artist Janet Hamlin will be part of the Local Arts Index group show on First Friday on Dec 6 from 5-8p at ML by Maria Luisa, 75 South Broadway.
Last month Hamlin spoke at the Nyack Library about her experiences in Guantanamo working for the AP. She described the challenges of working long days under adverse conditions in the intense dual spotlight of military security personnel and media attention. Listen to the 30 minute podcast of by clicking below and meet the author and see her sketches on Friday Dec 6 in Nyack.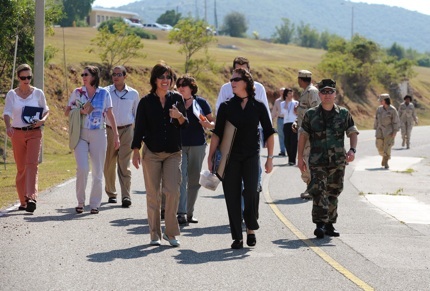 Here are a few excerpts from Hamlin's talk on Nov 24 2013.
All of the trials have been on this 1942 runway …where they built a secure courthouse. We sleep in a tent city that they built on that runway. The journalists sleep in these tents where there are six beds to each tent. It's kind of a like a Motel 6 under canvas.

Our days are very long. They start at 530a in the morning and they might not end until 1130 at night. The courts in Guantanamo don't take weekends off.

Being in a court room is visual sprinting. You literally go from 0 to 60 sometimes with your pencil. You need to stay loose. My way of doing that is to keep a sketch book.

[One of the advantages of being a sketch artist is] sometimes you can get full images of things that photographers can't get. Photographers need to [shoot] people from the neck down. But I have been able to draw full bodies as long as I keep the features indistinct.

When I first went to Guantanamo in 2006, I was not allowed to draw the prisoner's faces. With a Pentagon officer standing over me, I was literally told , "use your eraser …remove those features."  In 2007 I returned to draw David Hicks, an Australian sheep herder who was caught on video training for Al-Qaeda. The first time we saw him he had grown his hair out. He said he grew his hair long to throw over his eyes because the lights were never off and it was the only way he could get to sleep.  This time I was told, "hey, I think you can draw the face." But the seat they gave to me was actually behind him – and it was like trying to draw Cousin It.
Sketching Guantanamo is available at Pickwick Bookshop in Nyack.
See also: