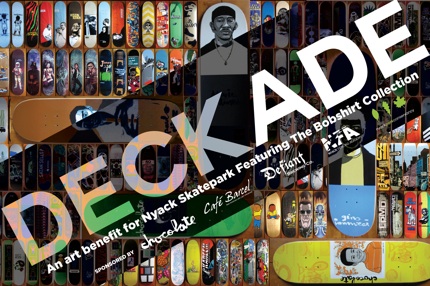 See iconic art and support Nyack Skate Park on Dec. 7 from 7-9p,  at the Nyack Fencing Academy, 40 Lydecker. The Bobshirt skateboard art collection, featuring original art by Marc McKee and Sean Cliver, will be on display at a fundraiser to supoort Nyack Skate Park
Complimentary beer provided by Defiant Brewery and tapas by locally acclaimed restaurant Cafe Barcel. Live musical tributes to the 1990s.
Bobshirt Artists Speak
The Bobshirt collection is pretty solidly based in the 90s, which is probably my favorite era of doing graphics. The boards were still individually silkscreened back then, making each of them a work of art in a way. With the 90s the graphics became less iconic, but what followed was a fresh (and sometimes baffling) chaos and randomness in the range of styles and themes. I still need someone to explain the Sean Sheffey Cowardly Lion board to me…."
–Marc McKee, Artist
"I'm honestly surprised that anything at all survived… the '90s skateboard era, so it's great to see collectors such as the Bobshirt collector now providing quality safe houses for the old art remnants. Better to be appreciated and on display than forgotten in dusty old flat files…"
-Sean Cliver, Artist, Author- Disposable: A History of Skateboard Art, Co-Producer of 'Bad Grandpa'
Nyack Skate Park Status Report
This October, the Nyack Village Board of Trustees awarded the design/construction bid for the skate plaza to the renowned East Coast company WhoSkates. This award followed formal public presentations made in September by two leading skatepark design/ construction companies, of which WhoSkates was one.  The Village is now in the process of going into contract for the design/construction of the skate plaza. Who Skate's designer, ASD/Stantec, is the designer for the notorious Charles River Skatepark in Boston.
Following several months of ongoing public fundraising, and thanks to a generous donation by Russ Woolley and Justin Tracy of Wright Bros Real Estate Inc., the Nyack Park Conservancy has reached their fundraising goal for the design. They are anticipating to need to raise roughly $125K- $150K for the construction of the skate plaza. That number will be established once the design is final.
The design process is going to be a public process and meetings will be publicly announced.
The Nyack Park Conservancy is hoping to sell 150 tickets to DECKADE. If they are able to meet this goal, they will then be able to report to the Tony Hawk Foundation that they've raised over $20,000 for the skate plaza though their grassroots efforts. Tony Hawk is the closest thing that skateboarding has to a household name. The Tony Hawk Foundation awards up to $25K to projects that meet their criteria, and the deadline for their grant application is early February.
The Bobshirt skateboard art collection will premiere as part of a fundraiser for the Nyack Skate Plaza on Dec. 7 from 7-9p,  at the Nyack Fencing Academy, 40 Lydecker. The notorious collection is a chronology of 1990s skateboarding art and features original work by Marc McKee, Sean Cliver, Sean Coons, and more. Enjoy complimentary beer by Defiant Brewery, tapas by locally acclaimed restaurant Cafe Barcel, wine and live musical tributes to the 1990s.
"Angel" ticket holders will receive a special thank you. Tickets can be bought at the door or purchased online at nyackpark.org.
You can also buy tickets at Gypsy Donuts, 18 N Franklin St.
All proceeds go to the Nyack Park Conservancy, a charitable 501c3 organization