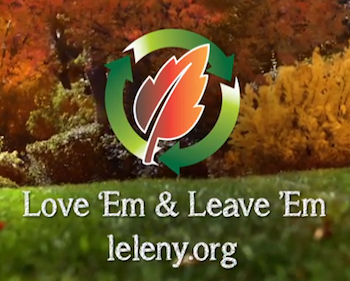 by Marcy Denker
Are you piling leaves at the curb to be hauled away this fall? Think twice before you do and look what they're saying in communities around the region about saving them instead.
Love 'Em and Leave 'Em is a campaign to promote mulching leaves on site that's spreading through Westchester County. The Town of Bedford 's Leave Leaves Alone has the same message. And this fall, the word is spreading in Nyack and in Orangetown where there is helpful information on the town website.
Why mulch your leaves? Here's what Love 'Em and Leave 'Em has to say:
Leaves are a valuable resource that many property owners let go to waste every fall. Leaves are blown into piles on the street, left for DPW pickup. Too often piles spread out creating a safety hazard for drivers and wash into the storm drains, clogging storm sewers. Leaves decaying on the street release nutrients such as phosphate and nitrogen (aka "fertilizer") that eventually wash into our rivers.
As a homeowner, landscaper, or property manager, are there better options? Yes! Mulching (shredding) in-place is the best and simplest solution. It is easy to learn, easy to implement, gets great "green" points, and better yet: actually saves time & money!
Saves money: Helps keep your taxes down by reducing municipal leaf pickup and disposal costs.
Saves effort: Mulching leaves in place actually is easier and faster than bagging, raking or blowing them to the curb.
Keeps your property healthy: Recycles nutrients into your soil to feed your lawn and plants improves soil health, and helps retain moisture.
Helps the planet: Transporting and disposing of leaves from your curb wastes energy and contributes to pollution.
Check out Curti Landscaping's Facebook page for a video of their demonstration at Blue Hill this fall showing how it's done or watch the "how to" videos and related resources at Love 'Em and Leave 'Em New York.
See also: