by Lisa Levart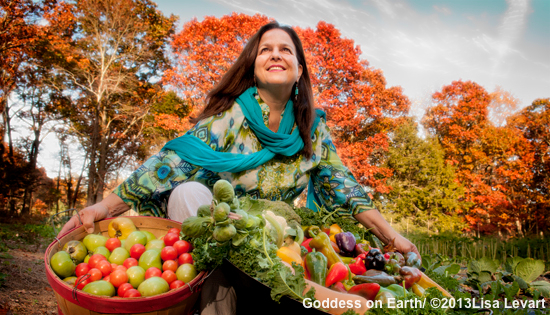 In this season of short days and long nights, we turn inwards — seeking sustenance in the holiday rituals of our families and communities. For many of us, it's a time that brings us into deeper engagement with the traditions of food and cooking that have been passed down through our families and friends. It's also an opportunity to reaffirm our connections to our communities, and the ways we nourish and give to others.
This month I photographed the natural foods chef, educator, and food activist Bhavani Jaroff. She is the founder of iEat Green, a motivational, educational organization that "acknowledges the pleasures of the table, and promotes eating as a social experience for families, friends and co-workers." iEat Green is founded on a passion for delicious foods, healthy lifestyles and reducing one's global footprint.
For Bhavani, the link between cooking and social consciousness is deeply important. Since 1993, she has organized and served a home-cooked Thanksgiving meal to the homeless in Rufus King Park in Queens, NY. Last year, over 600 less fortunate people savored a feast prepared by 125 volunteers. This annual ritual is one that brings people together, volunteering their time and skills, in service to their community. Bhavani recognizes the sacred potential of food and cooking to bring people together, and to challenge social injustice, economic unfairness and food inequality.
For Goddess on Earth, Bhavani chose to portray Annapurna, the Hindu Goddess of harvest and the kitchen. In India, she is the divine mother who feeds and nourishes the hungry, imparting the delicious and healthy food she cooks with holiness. Often depicted with a spoon and jeweled vessel, images of Annapurna are placed in kitchens and restaurants throughout India. She symbolizes unending abundance and food as the sustainer of all life.
On choosing to portray Annapurna for Goddess on Earth Bhavani wrote,
"When I am in the kitchen, or when I am teaching about cooking, the most important thing I talk about is imparting the food you are cooking with the secret ingredient of love! So much of the food we eat today is void of love and nourishment, that is why, as the Goddess Annapurna, I encourage growing our own food, harvesting our own food and cooking our own food with love, and then feeding everyone."
Like Annapurna, Bhavani is an inspiration to find the sacred in the mundane acts of cooking that we undertake every day — often without recognizing them as rituals. And yet the story of this Goddess highlights the life-giving importance of food — just as Bhavani's work illuminates the potential of cooking to build stronger communities and address social inequality. May the sacred myth of Annapurna and the passionate activism of Bhavani, inspire us all to prepare the food we serve ourselves, our families and our communities with a healthy dose of love.
Lisa Levart is an award winning photographer whose images have appeared in numerous publications and exhibitions worldwide. Her book of portraits, Goddess on Earth, received the GOLD Nautilus Book Award and features many women from the Rockland area. Goddess on Earth can be purchased at Saffron and Sanctuary in Nyack and online at GoddessOnEarth.com.