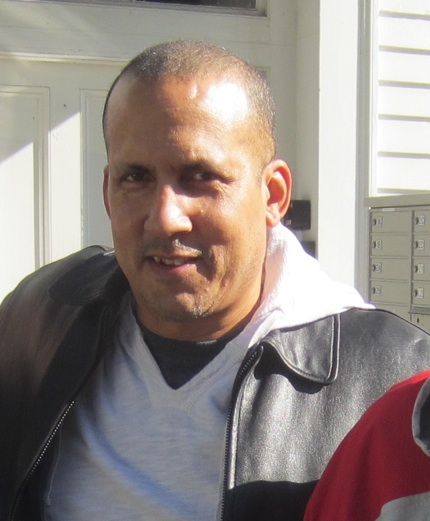 For over a century, our region has been home to extraordinary artists. Local Arts Index highlights the work of individuals who continue our community's rich creative legacy.
Meet Nyack Sketch Log author and artist, Bill Batson.
How Did You Become an Artist?
When I was 13, my mother brought me to a figure drawing class. When she got over the shock that live model meant nude model, she paid for three months of classes at the Tenafly Art Center. I have been drawing ever since.
What Kind of Art do you Make?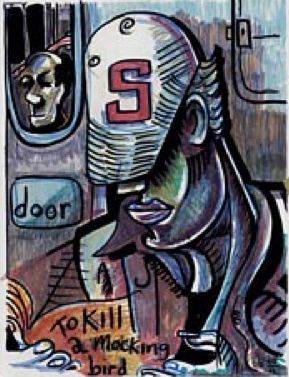 After studying art, briefly, at Pratt Institute in Brooklyn, I took a divergent path and became an activist, first in the area of housing and labor and eventually, the arena of electoral politics. But I always carried a sketch pad. During every commute for decades, I would surreptitiously sketch my fellow subway riders.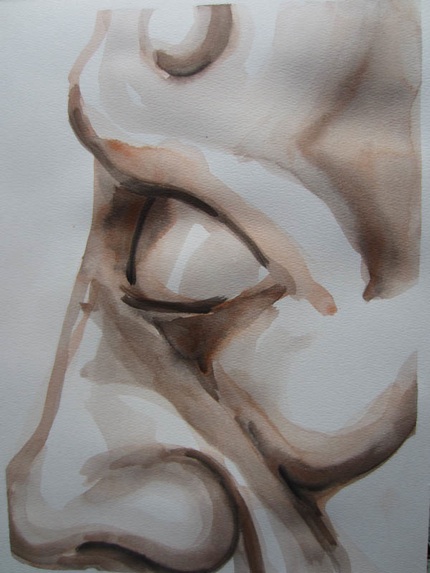 In 2009, I moved to Nyack to take care of my elderly father. Relieved of my commute, my family and the village that my great grandfather moved to in 1890 became the subject of my work. In honor of my father's 90th birthday, I painted a watercolor portrait of him each morning for one year.
As a child, I spent weekends in Nyack visiting my grandmother. My first drawings upon my return, all created curbside, were an effort to reacquaint myself with those memories. These early sketches are now hanging on the second floor of the Hudson House Restaurant at 134 Main Street.
When NyackNewsAndViews founder Dave Zornow learned of my work, he asked that I submit a captioned drawing to the website. My caption came in at just under 1200 words. Nyack Sketch Log was born. With Dave's editorial encouragement, I am down to 750 words a week and have produced 117 sketch logs since August 2011.
In a Nyack Sketch Log dated October 11, 2011, I boasted that I could produce a block-by-block depiction of the entire village that could rival the street view feature of Google Maps. When the hubris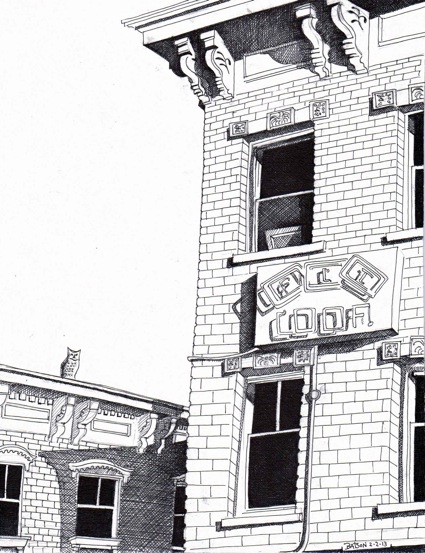 wore off, I realized that a composite landscape portrait created by hundreds of hands was the only way to document every inch of Nyack. One hundred artists participated in the first Flash Sketch Mob on June 16, 2012.  We had an artist every twelve paces from Cedar Hill to Second Ave on both sides of Broadway.
What's Your Muse?
Conceptually, my inspirations are my family, my landscape and the members of my community. Visually, I am influenced by the stylized flatness of Stuart Davis, Norman Rockwell's reverence of small town America, and Edward Hopper's ability to elevate the ordinary to the ethereal.
What's Next?
I will be the Artist of the Month at The Corner Frame Shop at 40 S. Franklin in December. A reception for the exhibit of pastels based on my Nyack Sketch Log entries, titled Gray Areas, will be held on Sun., Dec 8 from 2-5p.
An exhibit of my Nyack Sketch Log drawings and short essays at Nyack Village Hall has been extended through February, 2014. There will also be an exhibition of my Edward Hopper-related drawings opening on First Friday, February 2014 at the Edward Hopper House Art Center.
For ARTWALK weekend, June 2014, I am planning another Flash Sketch Mob.
To see more of my work you can visit billbatsonarts.com.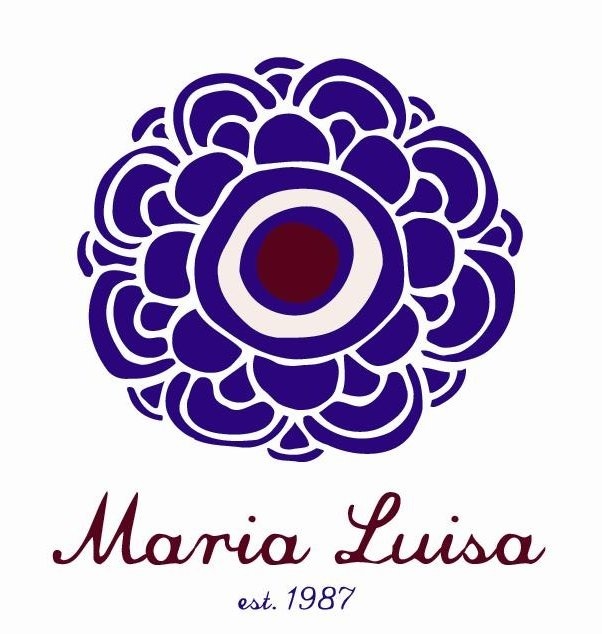 Local Arts Index is sponsored by Maria Luisa, 77 South Broadway and ML by Maria Luisa, 75 South Broadway, Nyack, NY