Orangeburg, Nov 15 — Local fire fighters began their second day trying to extinguish a brush fire that started at about 1:30p on Thursday on Clausland Mountain between 9W and 303 in Orangeburg. The blaze has consumed over 40 acres of parkland. About 150 volunteer firefighters from 18 departments including the Nyack Fire District and Orangetown were involved in battling the blaze.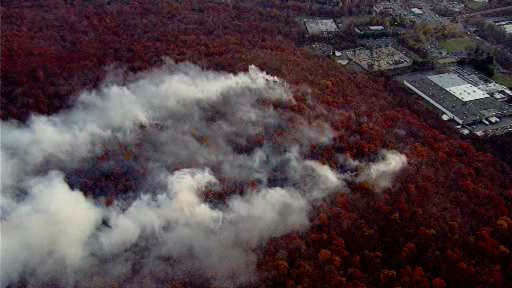 Orangeburg volunteer firefighters were called out early this morning to protect homes along Greenbush Road, where flames were approaching residential properties. At about 4:45a, Nyack Fire Department volunteers were called out to Tweed Boulevard at the top of Clausland Mountain, where embers from the fire were flying across the road and landing on homes overlooking the Hudson River.  No property damage has been reported.
The smell of smoke filled in the air in Nyack, and was reported by residents as far away as Ridgefield, CT. Hazy conditions are expected to persist in Rockland County Hudson River villages and Westchester because the wind is blowing towards the northeast.
Fox News 5 reports that the fire started "near the local hangout landmark called TZ Rock."
Special thanks to Bill Demarest for his coverage of this story.
Sources:
Photo Credit: WABC Eyewitness News