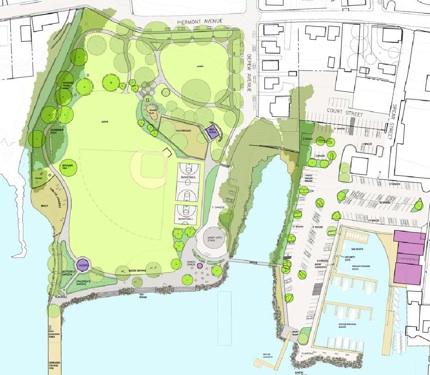 by James K. Willcox
Have you been wondering what's going on with the children's playground in Nyack's Memorial Park? This Thursday, Oct. 24, you'll get a chance to find out, as the Nyack Park Conservancy and the Village of Nyack will hold a public workshop on a plan to completely renovate the children's playground. Join us at 6:30p at Village Hall.
As many of you probably already know, several major play pieces had to be removed from the playground this year as they had become unsafe for use. Many Nyack residents—along with the Nyack Parks Commission and Nyack Park Conservancy—saw this as a wonderful opportunity to completely renovate the playground for our kids and families. Over the past several months, the Park Conservancy and its Playground Design Committee have been soliciting input from the community about what they'd like to see in the playground, reviewing design proposals, and raising funds to pay for the project.
At the workshop, the playground design team will show a proposed plan for the new playground, and discuss the layout, possible equipment options, the choice of new fill material to replace the rubber mulch, etc., and bring everyone up to date on fundraising efforts and a proposed timeline for completing the project. This is a great chance to find out what's been going on, what is being planned, and express your opinion about it all.
The meeting kicks off at 6:30 on Thursday in the main meeting room on the second floor of Village Hall, right before the regularly scheduled Village Board meeting. We hope you can join us.
See also: