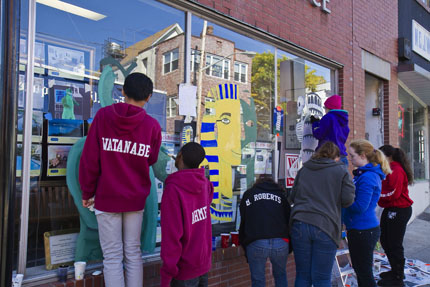 For the last 50 years students  have haunted the store fronts in downtown Nyack…with brushes and acrylic paint. This year about 30 business on Main Street and Broadway have been adorned with colorful paintings of ghouls, goblins and ghosts.
The paintings were created on Thursday, October 24, in time for last weekends Halloween Parade and for Halloween on the 31. In 2012, Hurricane Sandy's devistationing wind and rain wiped all the windows clean a day after they were painted. This year's milder weather gives you time to see the entire creepy collection. Here is a  list of painted businesses to help you stroll the outdoor gruesome gallery of wicked windows.
Poltergeists in the Produce?
Author and Ghost Investigator Linda Zimmermann will be signing books at the Nyack Farmers' Market this Halloween, October 31, from 11a-1p. Trained as a Chemist, Zimmermann is the author of over 30 books and has made numerous appearances on television and radio, and has starred in an award-winning UFO documentary based on her book, In the Night Sky.
Zimmermann titles that dwell on more local haunts include Rockland County: Century of History, Ghosts of Rockland County, and Hudson Valley Zombie Apocalypse.
The Farmers' Market is the perfect place for Zimmermann, who is a vegetarian.  "If an apocalypse occurred and I became a zombie," Zimmermann says, "I would have to subsist on brain-flavored tofu."
For more information visit: www.gotozim.com
Some frieghtening fun facts
This year's theme is Halloween Around The World.
Over 150 students submitted proposals for paintings this year and 51 students were selected for windows on 28 different Nyack businesses including:
Students in the middle school and high school work alongside one another. This tradition of including Nyack Middle School students in the village painting project started seven years ago.
Over 120 students participated this year, including painters, helpers, photographers, video artists and an MSG Varsity film crew.
It takes three buses to get all the students and teachers into town for this project, which takes place all day from early morning until the end of the school day. Some students decide to work on their paintings into the late afternoon in order to complete them.
 Bedeviled Businesses 
[column size="one-half"]
Avispa
Back to Earth
Casa del Sol
Halo Hair Salon
Harbor Hill
Herb Lack Paints
King and I
Koblin Pharmacy
Lydecker Realty
McManus Pharmacy
Nyack Gourmet
Nyack Medical Center
Nyack Pour House
Nyack Public Library[/column]
[column size="one-half" last="true"]
O'Donoghue's
Olde Village Inne
Olive's
Pickwick Books
Pink Entourage
Runcible Spoon
Saur Kraut
Starbucks
Strawberry Place
Sweet Spot
Tarantella Pizza
Turiello's Pizza
Village Market
Weld Realty[/column]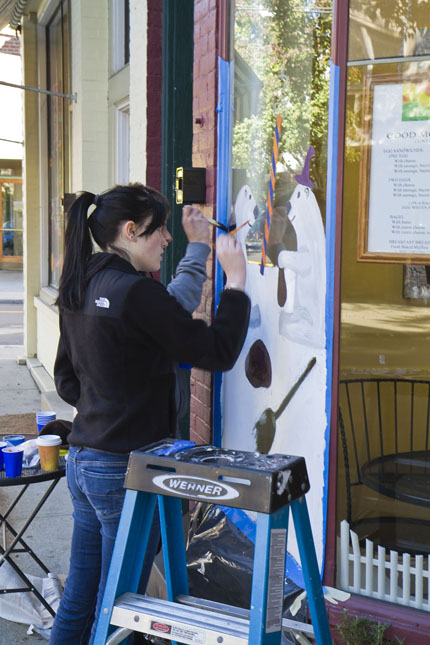 Faculty Advisors
Kathy Buckley, NHS
Mary Burke, NMS
Sue Foss, NHS
Joe Fusaro, NHS
Deirdre Kenna, NHS
Sean Sweeney, NHS
Jacqueline Mahan, NMS
Ed Walsh, NHS
Photos: Ray Wright