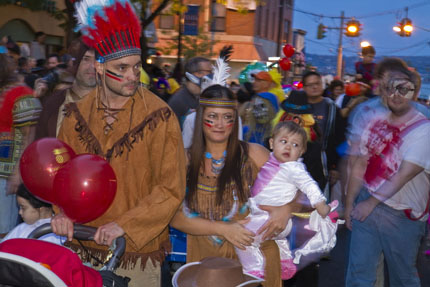 Nyack's 26th annual Halloween parade promises dancing ghouls, five marching bands, roller derby skaters, crazy floats, motorcycles, classic cars, live entertainment, wild costumes and over $2,000 in cash prizes. Scheduled for this Saturday, October 26, (rain date Sunday) it's the biggest regional Halloween celebration after New York City's Greenwich Village parade.
The procession starts at Memorial Park and snakes through the village from 5:30 to 7:30p ending in the municipal parking lot on Main Street. Festivities begin at 3p with live music in Main St. lot.
The event is organized by the Nyack Chamber of Commerce and sponsored by leading local merchants. Building on a history of record-breaking crowds, over 20,000 spectators are expected to line the streets of Main and Broadway in Nyack for this fun-filled, family-friendly event.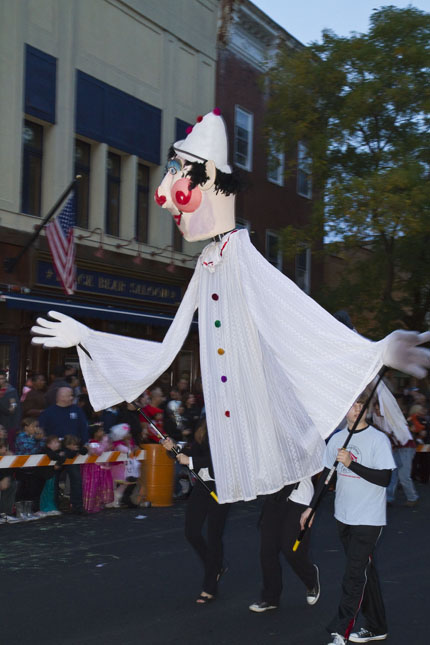 Parade-goers will experience a reprise of Therese Shorn's "Festival of Ghouls" — 15-foot tall puppets worked by Nyack's own Amazing Grace CIRCUS! performers — plus unicyclists, jugglers and other Circus! talent.
Five of Rockland County's top marching bands will set the beat, including:
Nyack High School marching band
Nanuet High School drum line
East Ramapo marching band
Clarkstown South High School marching band
Clarkstown North High School marching band and dance team
Additional parade highlights include the Suburban Roller Derby of Westchester, the Rockland Boulders, H.O.G.S., Shriners, Hudson Vagabond Puppets and local fire departments showing off their best equipment.
Live music returns this year to the municipal parking lot on Main Street and Artopee Way from 3:00 to 5:00pm provided by Anjel Blue Rehearsal Studios and Nyack Music School. Featured performers include Danielle Sheri and the Pipeliners. The evening continues post-parade with a gala awards ceremony and music with Frankie D and The Boys.
Monster Mash After-Party
Immediately following the parade, Halloween revelers can go to the Nyack Center's seventh annual "Monster Mash" party featuring live music, dancing, dinner buffet – and lots of spooky family fun. The party goes from 6:30 – 9:00 pm. The Center is located at the corner of Depew and South Broadway in Nyack. More information is available at www.nyackcenter.org.
Poltergeists in the Produce?
Author and Ghost Investigator Linda Zimmermann will be signing books at the Nyack Farmers's Market this Halloween, October 31, from 11a-1p. Trained as a Chemist, Zimmermann is the author of over 30 books and has made numerous appearances on television and radio, and has starred in an award-winning UFO documentary based on her book, In the Night Sky.
Zimmermann titles that dwell on more local haunts include Rockland County: Century of History, Ghosts of Rockland County, and Hudson Valley Zombie Apocalypse.
The Farmers' Market is the perfect place for Zimmermann, who is a vegetarian.  "If an apocalypse occurred and I became a zombie," Zimmermann says, "I would have to subsist on brain-flavored tofu."
For more information visit: www.gotozim.com
Oak Beverages and Guinness are giving generous support for the parade as lead sponsors. Nyack's own Casa del Sol restaurant and Back to Earth are sponsoring the float and costume prizes. Casa del Sol also hosts a lively parade after-party later in the evening.
Marchers and floats will assemble at 4:00pm in Memorial Park at the corner of Depew and Piermont Streets in downtown Nyack. All are welcome to march and to register for prizes. Registration is required to be eligible for prizes.
The winner of this year's Best Float competition will take home a $750 cash prize. Prizes for costumes will be awarded in seven categories with prizes ranging from $25 to $200.
Returning this year to lead the parade will be the Hon. Harriet Cornell as Parade Grand Marshall, along with Nyack's Mayor Jen Laird-White, Village Trustees, and other local officials and celebrities. The Trustees, along with former County Legislator Connie Coker, will preside over the costume and float contests.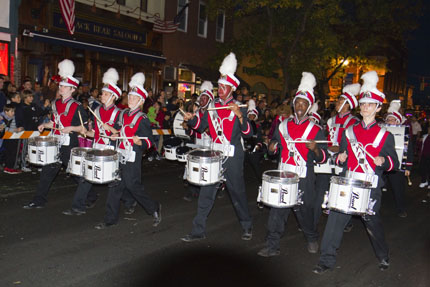 Nyack's Main Street will be closed from 4:00 to 8:00pm for the parade activities. The much-anticipated prize awards ceremony will begin immediately after the parade. Live music and dancing will continue in the Main Street parking lot after the awards.
Details on participating in and viewing the parade are listed on the Chamber of Commerce at www.nyackchamber.org. To register your float, join as a marcher, or to contribute as a sponsor, go to the website or call the Chamber office at 845-353-2221.
Photos from last year's parade by Ray Wright