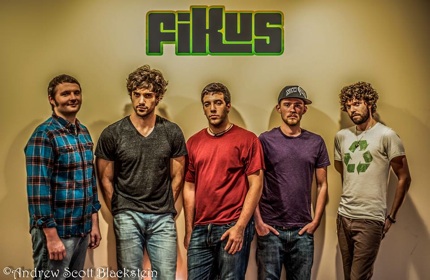 by John William Mabery 
FiKus brings their celebrated live act to Olive's on Friday, October 25th for a special Halloween show.  The New Jersey-based quintet will play two sets and feature a local DJ before and between the sets.  Doors are at 10 p.m. and admission is $5.
Though they hail from Bergen County, FiKus has become the adopted sons of Nyack, and 118 Main Street is their home.  Their sound – an amalgam of rock, funk, and electronic – transcends time, with nods to the past and promises of the future.  This style, combined with their unparalleled stage presence, is the reason they continue to be so popular among the Olive's faithful.
"We always do well there," Pete Kozak, vocalist and percussionist of FiKus, said of Olive's.  "We should.  If we didn't, it would be the most embarrassing moment of my life [laughs]."
But such a moment has yet to come, nor does it seem as though it ever will.  FiKus are no strangers to Olive's – their St. Patrick's Day and Black Friday shows are always a huge hit (last November's black tie affair was such a success they had to turn people away at the door).  Their most recent performance this past June was, in their opinion, one of the best shows they've ever played.  As Kozak describes it, they practiced relentlessly for that particular date.
"We all think of that as a big time show for FiKus…we all connected on an enormous level."
They carried that energy into the recording process for their first full-length album, now in post-production.  Since then, they spent the summer on the festival circuit and are slated to play several Phish after-parties throughout the Tri-State area and New England through the rest of 2013.  Still, it all comes back to Olive's, where their legend is being written.
"I feel like its home base for us by default at this point, because of a lot of the things that have happened there," Kozak said.  "But Olive's will always have a specific place in the FiKus history.  Personally, I've grown a lot there, and my understanding of the industry…and developing FiKus through my understanding of the industry."
The reason they have done so well is, for several years now, FiKus has cultivated a following – one might even say, a family – that has remained loyal.  The centralized location of Nyack attracts people from Rockland county, across the border in New Jersey, New York City, Long Island, and even as far as upstate.  One can always count on seeing familiar faces at Olive's, as it is sure to be highlighted on everyone's calendar.
In addition, the prospect of working with friends on a show of this caliber – one that they're all invested in, troubleshooting on the logistics of such an event, and how it all comes together – is important to the members of FiKus.  It is an all-hands-on-deck affair, which is essential when putting on the best possible show for the hometown crowd.  Kozak cited the tireless efforts of (local friends and fellow musicians) Frank Coda and Billy Schmidt as the reason it was able to come together at the June show.
"It's everything that's good about the underground industry.  It's my friends that come in four, five, six hours early for a production, and stand and look at the floor and think, 'how are we going to set up all this gear'?"
The hard work shows, and it pays off.  At the end of a long night, there is nothing left but the lingering vibrations, the ghost of a good time.  Like The Ramones to CBGB's or Motley Crue to Whiskey a Go Go, Olive's is where FiKus is at the peak of its powers.  Kozak emphasizes it's not about strength in numbers per se, but how those 100+ people that come out to see them play in Nyack help to create an atmosphere worthy of 1,000.
"Yes, the band plays well, but there's a whole energy thing that happens because of that.  It's the fact that it's a grassroots movement from top to bottom.  We put on a show, we put on a production, we play the music, and we reap the benefits of all of our friends being able to be there with us.  We play shows every weekend man, you know, it's nice to be able to play for all of your friends at one time.  There's nothing like it."
John William Mabery is a New-Jersey based author, and previously served as a writer, radio broadcaster, and PR officer with the Cape Cod Baseball League.
Photo credit: Andrew Scott Blackstein.