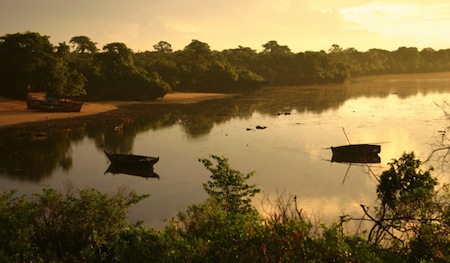 by Claudia Lifton-Schwerner
Nyack High School and SUNY Oswego graduate Claudia Lifton-Schwerner won a Facebook contest to blog on behalf of Global Vision International (GVI) about their animal and environmental protection projects around the world. Her first stop was the Yucatan Peninsula of Mexico followed by Fiji and Thailand. Her latest blog post is from Kenya.
I grew up watching The Lion King and, like most other animal-obsessed children, fell in love with its colorful characters and found myself perpetually humming its catchy songs that became the anthems of my childhood. After years of "hakuna mattata-ing" I am finally in the country where the term originated. Hakuna mattata is Swahili for "no worries" and the lifestyle of this magical place truly fits the philosophy I grew up day-dreaming about. Here in Mkwiro, our biggest worries are keeping the monkeys away from the bananas and the goats out of the office.
My final week on the marine research team was even more rewarding than my first two. As my research skills and knowledge of marine life grow, I find myself more confident on the boat, and more interested in the research we are conducting. I love the dolphins that we spend our days observing. I am amazed by their grace and touched by the apparent tenderness and care they show for one another while they gleefully play in the Indian Ocean. While we search for the dolphins, I have had time to bond with the other volunteers and staff, particularly the marine officer, Thalia. I am so inspired by her dedication and intelligence and have cherished my time learning from her and hearing her stories about growing up in Kenya.
Friday the 20th was international beach clean day, so Thalia arranged for the
volunteers to pick up rubbish from the Shimoni beach during the afternoon. I was ecstatic to see that GVI volunteers weren't the only participants – dozens of Kenyan students enthusiastically joined in. It was encouraging to see how much these young children cared about their ocean and its animals and how passionate they are about protecting their environment. While the beach clean was very successful and hugely rewarding it was also very humbling. In less than 400 meters of beach, we picked up over 60 bags of trash, weighing more than 1.5 TONS. I couldn't help but think about the devastating effects this waste has on wildlife and the environment around the globe. It is just another reminder of the importance to use less plastic whenever possible, and of course, recycle.
Over the weekend several of the volunteers and staff went to Mombasa to celebrate our darling Jordan's 19th birthday. It was great to blow off some steam with my new found family. I giggled and danced the night away with my best friends on base, Gaby and Jordan, and finished the night with a moonlit walk on the beach. The weekend left us refreshed and ready for another week on the charming island of Mkwiro. Sadly, my time on marine has come to an end, but next week I will be on the community project, teaching English and math to the adorable village children.