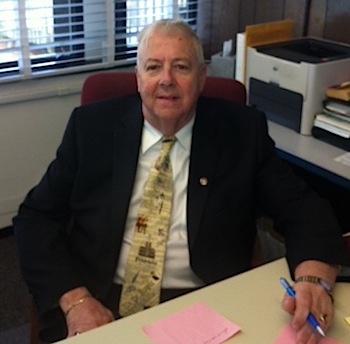 by Robert R. Simon, Orangetown Receiver of Taxes
I have been privileged to serve the people and the Town of Orangetown as Receiver of Taxes. I must admit, however, it has been a "Labor of Love." I have served as Receiver of Taxes since July 1999, when I was appointed by the Town Board to fill the unexpired term of Eileen Bohner who passed away in June of 1999. Since then I have been re-elected to the position I now hold.
I'm a native of Orangetown growing up in the hamlet of Pearl River and attended Pearl River Public Schools, Rockland Community College and Pace University. I have 15 years of experience as Receiver of Taxes, along with 26 years in banking and finance. In addition to serving as Receiver I have a record of committment to my community. As a member of the Rotary Club of Pearl River, Past President, Friends of the Orangetown Museum, serving as Treasurer, Blauvelt Lions Club, 1st Vice President, and Orangetown Traffic Advisory Committee. In 2009 I was named public official of the year by the John M. Perry Post 1044 American Legion.
As Receiver of Taxes, I hold one of the less exciting, yet crucial position in Town Government. It is here, that the most personal contact takes place under the most trying of circumstances. It is a full time position, that not only requires your time but demands it. Nine months out of the year you are either in collection, preparing for the next collection or closing out your books.
Much has been accomplished during my tenure. I have implemented availability of extensive tax information on our user friendly website. Increased accessibility by offering on-line check and credit card payment options, extended office hours in January and September and a secure drop-box available for tax payments. I have reduced department costs by implementing the most current technology resulting in cost savings to the town.
On the ballot this year will be the referendum on consolidating the office of Receiver with the Town Clerks office. This is not a new issue; I have previously discussed it with members of the current Town Board, prior boards, the Town Clerk and other elected officials in the Orangetown. I have come out publicly in favor of this referendum with the media and on my campaign literature. If by consolidation of services we can maximize efficiency and provide a  savings to the taxpayers, then I fully support this measure and urge the voters to approve it on election day November 5, 2013.
My priority has been and will continue to be, if re-elected, is to serve the residents of Orangetown, always putting the needs of the people before politics and continue the legacy of friendly and efficient taxpayer service.
Robert R. Simon is running for re-election as the the Receiver of Taxes in the Town of Orangetown, NY.
See also: Smith Says He's Running For Half A Job, 9/26/2013