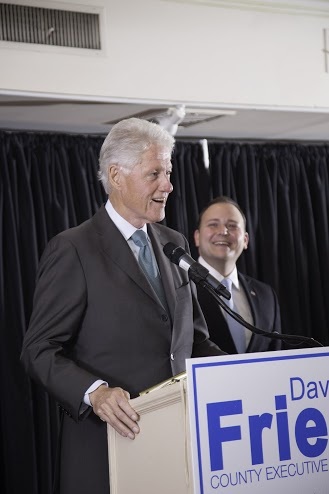 by Jen Laird White
President Bill Clinton came to our village last night. Our former President, who lives across the river in northern Westchester County, crossed the Tappan Zee Bridge for his first visit to Rockland County since 1996.
President Clinton came to Nyack yesterday evening to host a reception for County Executive candidate David Fried, who is running on the Democratic, Working Families, and Independence lines. More than 200 Fried supporters attended the event at the Nyack Seaport.
As the mayor of the Village of Nyack, I was honored to welcome the 42nd President of the United States to our community. President Clinton was incredibly gracious and told me, to paraphrase, that he would wake up happy every day if he had the views we had. I made it clear that we would welcome him back with open arms any time he wants to visit.
It was an extraordinary honor to have him here, but the best gift that President Clinton can leave behind for our river village is his contribution to the election of David Fried as County Executive.
 As both a David  Fried supporter and a candidate for re-election, it was wonderful to see someone as impressive as President Clinton recognizing the importance of local politics.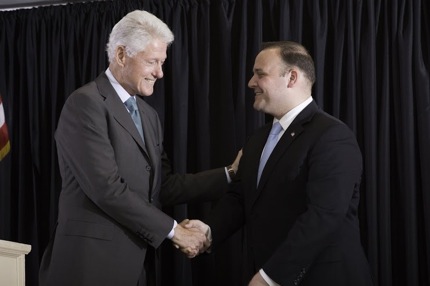 Speaking about fiscal responsibility, President Clinton made the point that for the past generation, the party of fiscal responsibility has been Democrats. It was under President Clinton that the federal budget was balanced, with a surplus to pay off the deficit. President Clinton pointed to David Fried as someone who possessed the same skills and vision to restore Rockland's finances. As President Clinton so eloquently argued, we will all benefit from the election of David Fried.
With the added perspective of the Clinton Global Initiative, President Clinton talked about how and which societies thrive. Those with political turmoil and acrimony fail, while the societies where opposing sides work together are the ones that succeed. As evidenced by the recent shutdown of the US government, President Clinton said we need people who are willing to work with and listen to all sides, and he said David Fried is the person to do it for Rockland.
Jen Laird White is the Mayor of the Village of Nyack and a candidate for re-election