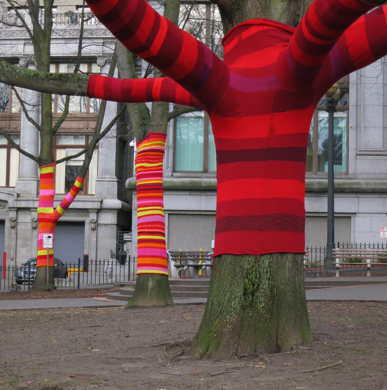 November's First Friday features yarn bombing, poetry slamming and a live band on Main Street. Here's a guide to Nyack Art Collective's monthly cultural festival.
Yarn Bombing is a form of street art using colorful displays of knitted & crocheted yarn and fabric. If you want to see trees and benches covered in color or have a chance to put your crochet needles to work, come to the corner of Cedar St. and Main Street on Friday, Nov. 1. You should bring finished pieces, but if not, and you knit quick, there will be some yarn.
Suffern Poets will be located throughout the village, breaking into verse near First Friday venues.
The STAC House Band will perform live at the Main Street Gazebo.
Exhibition Venues
Main Street (above Franklin Street)
The Franklin Antique Center – Chris Machlin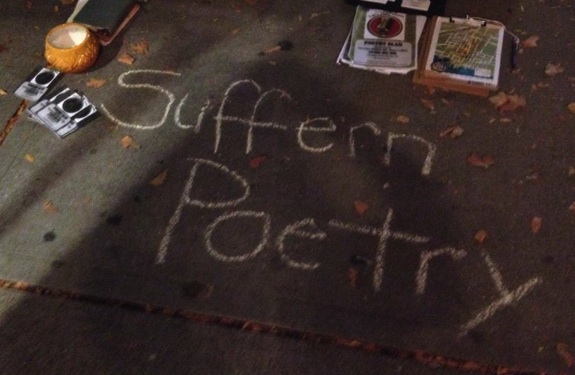 Main Street (below Franklin Street)
Cloud 9 – # 120: Doris Shepherd Wiese
Vincent's Ear-  #112:  Nina Berlingeri
Casa del Sol – #104: Lauren Rudolph
Little Flower Shop –  #95 1/2: Natalie O'Donnell
Harry's Burritos – #90: Shawna Handke
P. Ross: #89: Doris Shepherd Wiese
Johnny Cakes: #84: Elaine Schloss
Temptations – #80 1/2: Cass McVety
Starbucks – #80: Lawrence Hultberg
North Broadway
Edward Hopper House Art Center – #82: Sandy Levine
Lorybird – #23: Colleen McGowan:
Gena Lisa: #17
Bee Alive – #19: Diana Saez
South Broadway
Chocolaterie – #6:  Jamie Gaviola
Sweet Spot- #11: William Rauschenberg
Colin Holmes – #13 Kate Faust
Saffron trading Co. – #14
Art Café -#65 Daina DeFrancesco
Sanctuary – #60
Pizza Bistro – #64  Tracy Kachtick-Anders
ML by Maria Lusia – #75: Cynthia Shaw
RJ's – Leigh Anne Eagerton: 81 S. Broadway
Somos – Doris Shepherd Wiese: 78 S. Broadway
Burd Street
Burd Street Café – #78  Franklin Castro, Donna Ladson, Ken Burns, Jessica Butler
Hudson Avenue
Gagliardi Studio & Gallery – #39: Victor Gagliardi