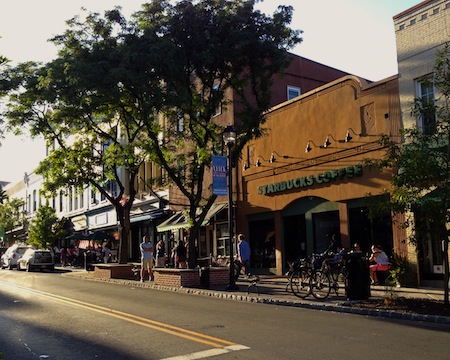 by Jacqui Drechsler
If you love good food – and who doesn't? – then come dine during the week of September 23-30 at one of the many great Rockland restaurants participating in Water Week. It's seven days of fine dining and community spirit to support the Rockland Water Coalition's work to ensure safe, clean and affordable drinking water for our residents and businesses. Each participating restaurant will make a donation with many giving 10% of their profits from one day or evening to fight this good fight. More than 25 Rockland restaurants have enlisted in the cause — with 17 eateries right here in Nyack.
Water Week is a great opportunity to enjoy delicious meals while recognizing participating restaurants for their commitment to help their community!
The Rockland Water Coalition's website, SustainableRockland.org, lists the participating Rockland restaurants and indicates which day or night each restaurant will make a donation.
Look for your favorite dining location or try a new one! Please be sure to tell them that you are there because of Water Week and thank them for their participation!
Rockland Water Coalition opposes United Water's plans for selling Rockland ratepayers treated Hudson River water for drinking water because of the huge cost, when there are cheaper, safer options.

Water rates will increase by $400-$500 for the average household if this plant is built, making our rates among the highest in the nation. Rockland residents are also very concerned about the plant's impact on the Hudson River and drinking treated Hudson River water, which may contain trace amounts of radioactive compounds from the leaking Indian Point nuclear plant, located just three miles upstream.
Look for the ROCKLAND WATER COALITION decal in the windows of participating restaurants.
Restaurant
Phone
Date
Alain's French Bistro
9 Ingalls St. (off Route 59)
Central Nyack, NY 10960
(845) 535-3315
www.alainsbistro.com
Thursday
September 26
Art Cafe of Nyack
65 South Broadway
Nyack, NY 10960
(845) 353-4230
artcafenyack.com
Tuesday
September 24
Back to Earth of Nyack
1 South Broadway
Nyack, NY 10960
(845) 353-3311
Facebook
Wednesday
September 25
Cafe Barcel
162 Main St.
Nyack, NY 10960
(845) 535-3133
cafebarcel.com
Thursday
September 26
Cloud 9 FroYo Cafe
120 Main St.
Nyack, NY 10960
(845) 353-3900
Facebook
Monday
September 23
Didier Dumas Patisserie
163 Main St.
Nyack, NY 10960
(845) 353-2031
www.didierdumas.com
Tuesday
September 24
Harbor Hill Bar & Grill
91 Main St.
Nyack, NY 10960
(845) 358-3202
www.harborhillnyack.com
Monday
September 23
Hudson House of Nyack
134 Main St.
Nyack, NY  10960

(845) 353-1355
www.hudsonhousenyack.com
Johnny Cakes
84 Main St  Nyack, NY 10960

 (845) 675-7373
Tuesday
September 24
5-9p
Nyack Pour House
102 Main St.
Nyack, NY 10960
(845) 727-POUR (727-7687)
www.nyackpourhouse.com
Tuesday
September 24
Sour Kraut
118 Main Street
Nyack, NY 10960
(845) 358-3122
www.sour-kraut.com
Monday
September 30
Spice of India
125 Main St.
Nyack, NY 10960
(845) 353-3663
spiceofindianyack.com
Wednesday
September 25
Temptations
80 ½ Main Street
Nyack, NY 10960
(845) 353-3355
temptationscafe.wordpress.com
Monday
September 23
Thai House Restaurant
12 Park St.
Nyack, NY 10960
(845) 358-9100
ThaiHouseNyack.com
The King and I
93 Main St
Nyack NY 10960
(845) 358-8588
www.kingandinyack.com
Tuesday
September 24
Wasabi
110 Main St.
Nyack, NY 10960
(845) 358-7977
www.wasabichi.com
Tuesday
September 24
Other Participating restaurants include:
Piermont: Confetti Ristorante & Vinoteca, Pier 701 on Hudson, Sidewalk Bistro, Slattery's Landing
Sparkill: Roost Restaurant
Nanuet: Posa Posa
Palisades: The Market
Pearl River: Pearl River Taco & Burrito, Raffaele's on Central Pizzeria
Tappan: Giulio's Restaurant, Seventy Six House, The Commissary Restaurant.
Jacqui Drechsler is a member of the Rockland Water Coalition.
Photo: Main Street in Nyack 8/15/2013.  Credit: Dave Zornow