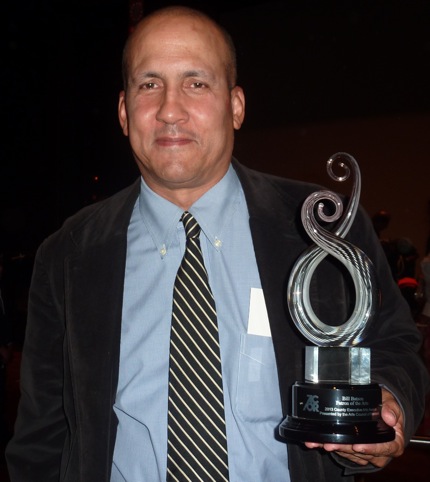 by Dave Zornow
Nyack has its share of award-winning authors, actors, painters, directors and musicians. And now NyackNewsAndViews can claim that one of the village's great creative assets has been recognized as one of Rockland County's great artists, too.
On September 18, Nyack Sketch Log columnist Bill Batson was awarded the 2013 Mary Grant Patron of the Arts Award by Rockland County Executive Scott Vanderhoef. Batson received his award at the 24th Annual County Executive Arts Awards ceremony held at SUNY-Rockland in recognition of his weekly column that showcases a local person or place of interest with an original hand-drawn sketch and thought-provoking essay.
Rockland County Executive Scott Vanderhoef
has a connection to the arts that precedes his 19 years presiding over the Annual County Executive Arts Awards. His mother taught watercolor at the Rockland Center for the Arts and his wife owned an art gallery on Broadway in Nyack. World famous sculptor Greg Wyatt was his closest childhood friend.
Vanderhoef, who was first elected in 1994, has officiated for 19 of the 24 years that the Awards ceremonies have been held. A long time project of the Arts Council, Executive Director Janey Tannebaum expects that the annual arts award tradition will continue in the tenure of the next County Executive. "We believe that all of our politicians recognize that the arts are essential to the vitality of our community—they make for better places to live, work and play."
Chairwoman of the Rockland County Legislature Harriet Cornell also praised Vanderhoef's commitment to the arts. Cornell, who is a Democrat, said that even though she and the Republican County Executive "may have differed once or twice, we always agreed on support for the arts."
"The premise behind Nyack Sketch Log is that the unexamined place is not worth living in, but in truth, some places are more worthy of habitation than others," said Batson in his acceptance speech. "As I examine the villages, mountains, lakes and rivers of our county, I have reached the conclusion that no spot is sweeter than Rockland."
"Our honoree is an institution in the Rockland County art world," said Arts Council of Rockland President Keith Cornell when presenting Batson with the award. "Through his strong sense of community and his passion for the arts, he enlightens us all with his tales and drawings of Rockland County and its inspirational people, places and things.  Through his work and love of Rockland, he elevates the ordinary to the extraordinary; he makes us remember long-forgotten places, and he reminds us that when things are hard, art makes us look up."
In addition to Batson, the following individuals also received 2013 County Executive Arts Awards:

Brett DiPalma, (Visual Artist Award),
Jacquelyn Drechsler (Performing Artist Award),
Edward Hopper (Ars Longa Award),
Morose Leonard (Arts Educator Award),
The Rockland County Jazz & Blues Society, (Arts Organization Award) and
Daniel Wolff (Literary Artist Award).
Group photo by Ron Levine,  Office of the Rockland County Executive; Batson photo by Jacqueline Cassagnol
Garnerville Open Studio Weekend features County Executive Arts Awards Winners
Visual Artist Award Winner Brett Dipalma and Shirley Crabbe, Board member of Rockland County Jazz & Blues Society, winner of the Arts Organization Award, will participate in a weekend of visual and performing arts at Garnerville Arts and Industrial Center on Oct. 12 & 13 from 2-6p.
RE-IMAGINE GARNER, a two-day event with 30 open studios, a large exhibition and a party Saturday night, will include live music, refreshments and a silent auction. Admission is free!
Visual Arts: Selected work by artists Brett DiPalma and Diana Cabouli
Performing Arts on Saturday October 12:
2-4: Strings, Etc with Doria Hillsman, Suzette O. Rivera and Fawn Wiener.
4-6: Shirley Crabbe and Alicia Crowe
The Garnerville Arts and Industrial Center is located at 55 West Railroad Avenue in Garnerville, NY.
Batson's Exhibit, Best of Nyack Sketch Log, is on display on the second floor of Nyack Village Hall until December 1. Nyack Sketch Log appears every Tuesday on NyackNewsAndViews. As Artist-in-Residence for the year-round Nyack Farmers' Market, Batson operates a booth every Thursday from 8a-2p at the Main St. Municipal parking lot in the summer and at Nyack Center in the Winter.  You can see more of Batson's work at billbatsonarts.com.