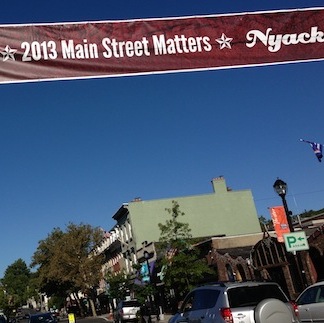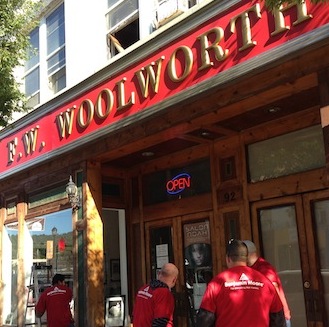 Nyack, Sept 20 — Benjamin Moore came to the village on Wednesday to kick off three weeks of Suburban Renewal.
Nyack is getting a free facelift courtesy of the Montvale, NJ based paint company. "We are thrilled to kick off Main Street Matters — kinda in our own backyard," said Benjamin Moore President and CEO, Bob Merritt. Approximately 20 Main Street storefronts between Cedar Street and Broadway will be repainted with additional TLC applied as needed. In Nyack, that includes power washing downtown sidewalks.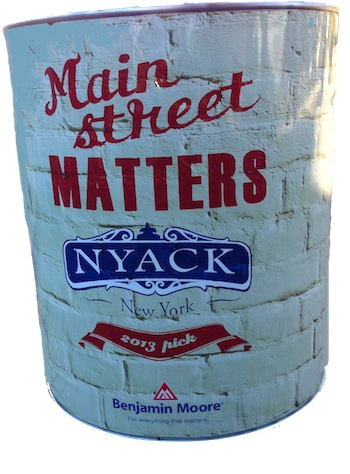 Benjamin Moore has contracted with Spilotras Painting to prep and paint the outside of the selected buildings. The company is offering a $10/can discount on up to 10 gallons of Benjamin cans of Moore Regal Select Exterior paint for businesses that were not selected but that still want to spruce up their first floor facades. The village is the first of the 20 Main Street Matters winners that will be painted. Benjamin Moore will throw a Main Street party in Nyack to celebrate the conclusion of the project on October 6.
Nyack Mayor Jen White said the village is still recovering from Hurricane Sandy and this project will help boost local businesses. "A gift like this from Benjamin Moore lets us know we are not in this alone," she said. "We have friends in corporate America who see the struggle of small business and want to help."
Although several blocks away from downtown, The Nyack Center on South Broadway will also benefit from Main Street Matters. "We are so thrilled about this generous donation. It is testament to the power of community and the generosity of our neighbors," said Kim Cross, Executive Director of The Nyack Center, which is housed in a 174 year old former church. Benjamin Moore will donate the paint and Spilotras Painting will provide the labor to improve the front bump out, doors and staircase of The Nyack Center. "At the end of the day Main Street is all about the community and it feels really good to help with this project," said President Michael Spilotras. "I had the opportunity to help paint the Nyack Center and am looking very forward to it."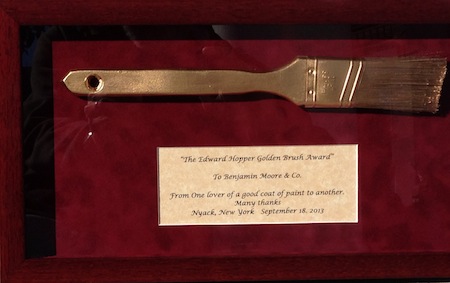 White presented a unique gift to Benjamin Moore executives to express the village's thanks for being selected for the Main Street Matters program. "Nyack is the home to Edward Hopper, a guy who truly understood the power of a good coat of paint," she said. Presenting a plaque titled the Edward Hopper Gold Paintbrush Award to Benjamin Moore's CEO Bob Merritt, White said, "just like fans of Hopper, you are a group that truly appreciated the power of a good coat of paint."