October's First Friday features three group shows, a site-specific installation, and a scavenger hunt. As the number of venues grow and the diversity of art forms expands, you'll need to get an early start to take in all the sights and sounds. Here's a guide to help you complete the Nyack Art Collective's unique cultural circuit.
Nyack Art Collective Scavenger Hunt 
If you can answer clues after meeting artists at their participating venues you can win prizes. Scavanger hunt questions and clues are available on the back of official Nyack Art Collective First Friday guides available at each venue.
Group Shows:
Local Arts Index Part I (ML by Maria Luisa at 75 S. Bway)
Work by the first 11 artists profiled in Local Arts Index on NyackNewsAndViews is now an exhibition that will run through October 27.  The show features Janice Baragwanath, Anita Brown, Peter Cheney, Trine Giaever, Shawna Handke, Ed Kirkland, Ann Oppenheim, Laurie Peek, Lauren Rudolph, Elaine Schloss, and Dan White.  There will be a reception from 6-7:30p. .
South on Broadway (85 S. Bway)
Bill DeNoyells, paintings; Marcia Nacht, sculpture; LC Nash, photography; Natalie O'Donnell, painting; Lisa Wheeler, art glass jewelry. Readings of Maya, Mind Over Matter and Honored Ink Tattoo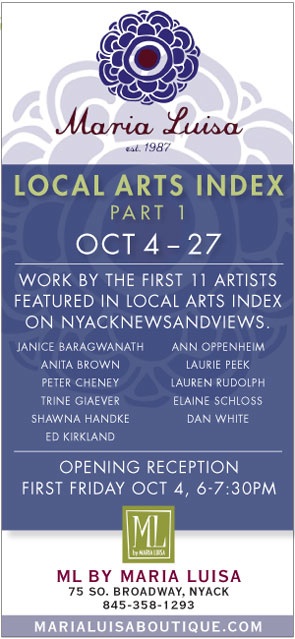 Nyack Art Collective Group Show "Food" (Vincent's Ear, 85 S. Bway, )
This month-long exhibit will coincide with the national celebration of Food Day, which is being observed in Nyack on October 24.  Local organizers have scheduled a series of events on the 24th including; an outdoor festival at the Nyack Farmers' Market, a foraging walk and talk at Nyack Beach, an after-school program at the Nyack Library for kids 8-13 and the screening "A Place at the Table" at the Nyack Center followed by a panel discussion led by NYS Assembly member Ellen Jaffee, chair of the Task Force on Food, Farm and Nutrition Policy. For more info visit foodday.org.
An Installation and an Illusionist (Nyack Village Cinema, 94 Main Street.)
View Nina Berlingeri's court yard roof installation from 5-8p.  The movie The Illusionist follows
Live Music at Main St. Gazebo
Albert Ahlf
Exhibition Venues
Main Street (above Franklin Street)
The Franklin Antique Center – Elaine Schloss and Chris Machin: 142 Main Street
South Franklin Street
The Corner Frame Shop-
Lawrence Hultberg: 40 S Franklin Street
Eyevolution – Lauren Rudolph: 42 S Franklin Street
Main Street (below Franklin Street)
Cloud 9 – Tracy Kachtick-Anders: 120 Main Street
Sour Kraut 188 Main St.- Donna Timm
Sign of the Times – Tony Ziegler: 112 Main Street
Casa del Sol – 104 Main Street
Little Flower Shop – Sandy Levine: 95 1/2 Main Street
Nyack Village Theater –
Nina Berlingeri: 94 Main Street
Harry's Burritos – Ray Lagstein: 90 Main Street
Johnny Apollo: 88 Main Street
P. Ross: 89 Main Street
Johnny Cakes: 84 Main Street
Temptations – Louise Bryant: 80 1/2 Main Street
Starbucks – Suffern Poets: 80 Main Street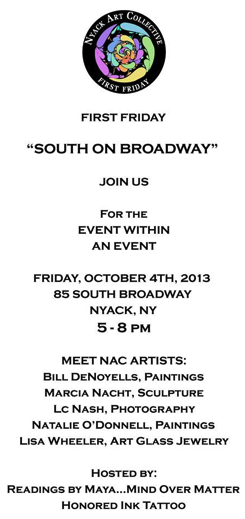 North Broadway
Edward Hopper House Art Center: 82 N. Broadway "Small Matters of Great Importance"
Lorybird:Colleen McGowan:  23 N. Broadway
Gena Lisa: 17 N. Broadway
Bee Alive – Diana Saez: 19 N. Broadway
South Broadway
Chocolaterie – Ken Burns: 6 S. Broadway
Pickwick – Shawna Handke: 8 S. Broadway
Sweet Spot- Lisa Wheeler and Natalie O'Donnell: 11 S. Broadway
Colin Holmes: 13 S. Broadway
Saffron trading Co. – Natalie O'Donnell: 14 S. Broadway
Art Café – Jessica Butler: 65 S. Broadway
Sanctuary: 60 S. Broadway
Pizza Bistro – Cass McVety: 64 S. Broadway
ML by Maria Lusia "Local Arts Index Part 1" group show: 75 S. Broadway
Maria Luisa – Jessica Butler: 77 S. Broadway
RJ's – Leigh Anne Eagerton: 81 S. Broadway
85 S. Broadway "South on Broadway" group show
Vincent's Ear – NAC group show "food": 85 S. Broadway
Somos – Doris Shepherd Wiese: 78 S. Broadway
Burd Street
Burd Street Café : 78 Burd Street
Hudson Avenue
Gagliardi Studio & Gallery: 39 Hudson Ave