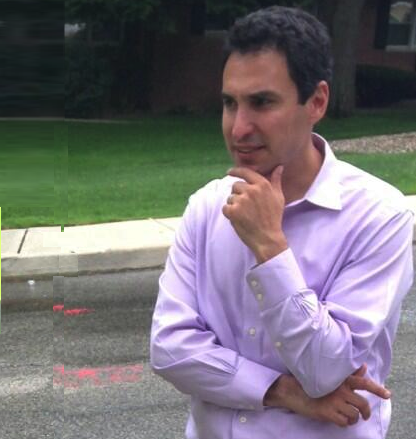 by Dave Zornow
The early favorite to win the September 10th Rockland County Executive Democratic Primary won't be campaigning this weekend. That's because Suffern Mayor Dagan Lacorte won't be on the ballot next Tuesday, having failing to submit the required 2,000 valid petition signatures to the county Board of Elections. Despite having a big head start and a significant fundraising advantage, Lacorte was bounced from the ballot last month after losing his last legal appeal to have his name restored to the list of Democratic candidates. One year ago, it looked like Lacorte might have a lock on the nomination, trumpeting his background in finance and his outsider's POV coming to the aid of a county drowning in deficits. Lacorte had professional handlers, a savvy media presence and lots of money.
What went wrong?
"Mayor LaCorte's campaign was splashy and grandiose. It had a lot of money but instead of using it to accomplish simple tasks, like properly collecting petition signatures, it wasted too many resources on promotion," said one Democratic party insider. "Dagan bought himself fantastic name recognition, but his campaign didn't want to do the hard work of knocking on doors." Perhaps modeling himself after NYC Mayor Mike Bloomberg — a Democrat turned Republican turned Independent who financed his own campaign — Lacorte flaunted his outsider cred and made no attempt to woo the rank and file county Democrats to work on his campaign. "He was tone deaf to the suggestions of the party regulars and ran his campaign as if he didn't need any local endorsements," said another campaign consultant.
That hubris probably paved the way for Lacorte's mid-summer campaign collapse. After a petition challenge by fellow Rockland County Exec candidate David Fried, the Rockland County Board of Elections determined that Lacorte didn't have enough signatures to make the ballot. Although Lacorte screamed foul, saying he was the victim of entrenched party hacks, Democrat insiders say his campaign was undone by their own sloppy work performed by inexperienced paid campaign workers. Local county Democrats, experienced in what it takes to properly complete a petition, would have never allowed such mistakes to take place, they say.
The Democratic Primary for Rockland County Executive
will be held on Tuesday, September 10, 2013. Polling places will be open from 6a-9p.
Many polling places have changed since the last election cycle, so visit the Rockland County Board of Elections to find out where you should vote.
"The big lesson to be learned here is that you can never collect too many petition signatures," said former Nyack Mayor Richard Kavesh. "During each of my six runs for office, I always made sure to collect five or six times the signatures necessary and I always used the most current 'walking list' of eligible voters." According to Kavesh, experienced political organizations always gather more valid signatures than necessary to preclude successful challenges. "Lacorte's problem was that he only gathered about 4,000 signatures for a race that required 2,000 – he should have gathered at least 6,000 signatures," Kavesh said.
Local party workers guestimate that about 75% of hired Lacorte campaign workers were from outside of Rockland. Despite Lacorte's protestations to the contrary, his petitons were riddled with mistakes — many of which could have been easily corrected by seasoned petition workers. "Whole pages were submitted without addresses," said one insider. "The petitions require the name of the town where each voter lives — information that could be legally corrected by the campaign worker." In some cases the voters weren't registered Democrats; and some cases the petition witness wasn't a registered Democrat either. It's the political equivalent of a 3rd grader not checking their math homework before turning it in to the teacher — and then having the parents blame the teacher, the school and the Department of Education.
"Lacorte's collapse is a cautionary tale for candidates. Supermarkets are the wrong place to collect signatures," said another former campaign worker. "You've got to find people at their homes to ensure you get valid signatures."
Despite the numerous obvious clerical errors, Lacorte doubled down on his campaign rhetoric following the faulty petition filing. "In pathetically and wrongly disqualifying petition signatures from confirmed registered Democrats… the political insiders who destroyed Rockland's finances with their pay raises and patronage will do whatever they can to stay cling to power," said Lacorte in an email to supporters on July 26. "The Board of Elections, run by the Rockland Democratic party chair, only accepted 1926 of the necessary 2000 petition signatures required. I've retained New York's top election lawyer, Jerry Goldfeder and am 100% confident the courts will validate at least an additional 74 signatures, overrule this baseless decision and restore my name to the ballot." Lacorte appealed to the State Supreme Court and was reinstated on August 5; but Fried appealed to the state Appellate Division which overturned that decision, affirming that Lacorte didn't have enough valid signatures to qualify for the Democratic primary.
"Lacorte's election lawyer obviously blew the appeals process," said Kavesh. "When you're appealing being thrown off the ballot, you can't just say, as Lacorte's lawyer did: 'they found no evidence that my petition was permeated with fraud.' You have to specify, objection by objection, why each signature that you want restored should be restored. This is a painstaking process, but that's how NYS election law works."
A former Democratic candidate for local office finds some irony in Lacorte's blaming his failures on "the Rockland Democratic party boss [who] disenfranchised hundreds of Rockland Democrats by manipulating the election laws," as Lacorte said on July 26. "Although the petition requirements can be arcane, if you follow the rules anyone can get on the ballot, whether or not they have the backing of the party bosses," they said. "Without the ability for citizens to collect signatures and file valid petitions, then ONLY the party bosses would choose who could run." Lacorte was an outsider whose candidacy was made possible by the rules he said were biased against him.
The other lesson for future candidates is that when the going gets tough, going negative might just make things worse — and in the process, make the public think less of everyone in the race."The anonymous attack mailers sent out by Lacorte's campaign showed a great deal of desperation," said a disappointed rank and file Rockland County Democrat. "I'm not sure what was going through their minds, but attempting to damage a rival's reputation is not what you'd want your campaign remembered for." Lacorte's camp must have seen something in their polling numbers which made them decide to attack David Fried on the pretense that some of his contributors had less than stellar pasts. But if that's a sin, Lacorte suffered from that shortcoming in spades — his competitors could have raised those same questions about Lacorte's funding and his advisers. To insiders who knew that the Lacorte campaign's anti-Fried claims were specious, it was hypocritical. To everyone else, it just sounded like "business as usual" for Rockland County politicians.
In January, following an embarrassing text criticizing David Fried which Lacorte accidentally sent to Fried — Suffern's mayor pledged to run a clean campaign and asked the other candidates to do the same. The county executive Kumbaya worked for a while, but by late Spring Lacorte's campaign manager Cristobal Slobodzian was sending regular nastygrams to the press and Lacorte supporters critical of Fried. In the end, the anonymous direct mail pieces from the Lacorte attacking Fried didn't save his campaign, and its not clear it would have made much of a difference even if he had stayed on the ballot.
Photo Credit: Solutions2013.com (Lacorte campaign site)