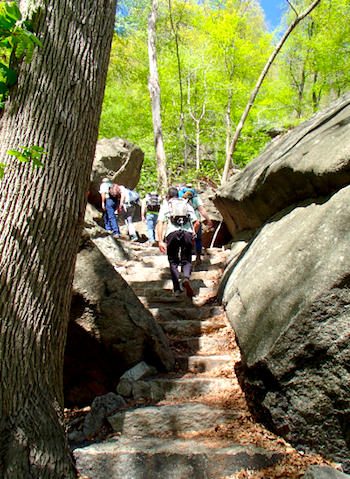 by the Palisades Parks Conservancy
Work continues on the Upper East Face of the Appalachian Trail and we need your help! Projects include building cribwall and stone steps, quarrying and splitting rock, moving rocks utilizing mechanical advantage and highlines, as well as treadway and surfacing work.
The Bear Mountain Trails Project is a collaboration between Bear Mountain State Park, The National Park Service, Office of Parks, Recreation and Historic Preservation, Palisades Interstate Park Commission, Appalachian Trail Conservancy, and New York-New Jersey Trail Conference and consists of the restoration of the Appalachian Trail, Major Welch Trail, and Suffern Bear Mountain Trail. Since breaking ground in 2006, over 1,200 volunteers have donated over 45,000 hours of their time working alongside professional trail builders utilizing ancient dry masonry techniques to build trails that will stand up to the test of time and hundreds of thousands of hikers Bear Mountain gets each year.
The most significant of these construction efforts is on the Appalachian Trail, which has been re-routed numerous times on Bear Mountain since its founding in 1923 due to erosion caused from the trails 100,000+ hikers a year. This erosion on the A.T. was the catalyst for the conception of the Bear Mountain Trails Project.
To get involved and learn more about the project, come to our fall courses:
Sunday, September 15: Tool Use and Safety
Saturday, September 21: Stone Crib Wall Construction
Saturday, September 28: Stone Splitting and Shaping
Sunday, September 29: Rigging for Trail Work
For more information or to sign up, visit NyNjTC.org or call 616-337-2481.