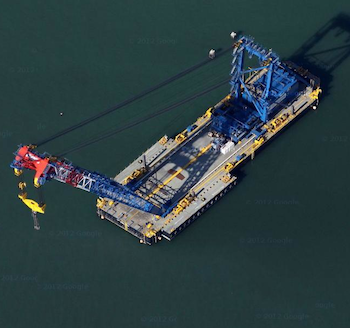 Tappan Zee Bridge construction sends ripples across the Hudson — and across the United States, too. Here are three recent stories that have appeared in publications across the country about TZB II. As well as one unprovoked Snark Attack.
"A Miamisburg firm is providing components for an historic New York bridge project," reports the Dayton Daily News in Dayton, OH. Dayton Superior, a 100 person company Dayton Superior is providing "high strength connection for galvanized rebar." The company's president says the firm is "proud to be providing engineering and product solution support for this historically significant endeavor."
In Dredging Today (really, there is a business trade journal by that name) TZC: Dredging Activities Move Forward (USA) reprinted a September 13 press release from NewYorkNewBridge and the Thruway authority. Dredging for the New NY Bridge is a 24/7 operation which goes seven days a week until the end of October — a scenario which must get the hearts of the dredging community pumping just a little bit faster.
See if you answer this riddle: What's 400 feet long, 100 feet wide, capable of lifting 3.8 million pounds while simultaneously evoking a major Bay Area Snark Attack? It's the Left Coast Lifter, and the largest lifting barge in the Western World (of the continental US) is coming to a bridge construction project near you.
The gi-normous crane barge is on its way from its last assignment, rebuilding the San Francisco – Oakland Bay Bridge. Which is where the "snark attack" reference comes in. Lisa Vorderbrueggen, who writes for the Contra Costa Times, describes the Tappan Zee Bridge project as a "a far less prestigious assignment," at least when compared to the heavy lifting the Left Coast Lifter was required to do on the Bay Bridge.  "The Tappan Zee is an ordinary cable-stayed river crossing estimated to cost a mere $4 billion, while the Bay Bridge is the largest self-anchored single tower span in the world, and set taxpayers back $6.4 billion…The bigger question is whether thin-skinned New Yorkers can stomach the super-size barge's moniker."
Ouch. Doesn't Lisa know that we New Yorkers have feelings too? On second thought, just fergitaboutit.
As Others See Us is an occasional feature that publishes what publications outside of Nyack say about the people and places in the Lower Hudson Valley.
Photo Credit: Google Maps