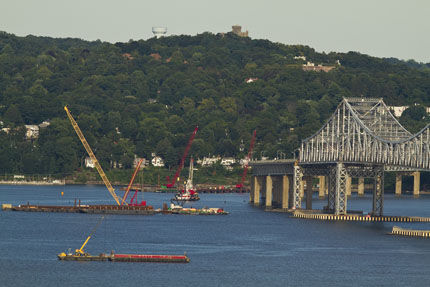 Here's what's happening on and near the Tappan Zee Bridge as we approach the Labor Day Holiday weekend.
Old Bridge
No
night time closings are scheduled this week. From 9a-3p on Mon-Wed, one northbound right hand lane and shoulder on I-87/I-287 between the bridge and  Exit 11 in Nyack will be closed to install concrete traffic barriers to separate construction activities from bridge traffic.
New Bridge
Construction begins this week on the Rockland trestle, a temporary work platform that will eventually support a crane for the construction of the westernmost section of the new bridge. The 1200-foot long platform helps reduce the amount of dredging required near the Rockland shoreline.
The work will include daytime pile driving to install the temporary foundation piles needed to support the platform. Pile driving will be limited weekdays from 7a-7p and some Saturdays from 12n-7p.
Test pile driving will continue to verify subsurface conditions and test structural load capacities in preparation for construction of the new bridge's permanent foundation. Impact pile driving will continue  Mon-Fri 7a-7p and Saturdays 12n-7p through October at various locations as part of the test pile program.
Tappan Zee Constructors (TZC) will continue 24/7 dredging operations in the Hudson River to deepen the river's shallow water level in the work zone by removing sediment from the river bottom. To minimize the impact to sturgeon migration and spawning patterns,  all 2013 dredging will cease on October 31. Dredging starts at the main navigation channel and will expand West and East towards the Rockland and Westchester shorelines.
Temporary noise barriers will be installed along the right of way adjacent to I-87/I-287 near Ferris Lane in South Nyack. Fencing and sidewalk work will continue along River Road in South Nyack north of the existing bridge. This work part of the bulkhead construction area, will be limited to Mon-Fri between 7a-3p. At times, River Road will be limited to one lane.
Other ongoing operations include:
Rockland bulkhead construction (including fence & gates) and Dock Extension at Rockland (under existing bridge)
Temporary Westchester trestle construction including pile driving on weekdays from 7 a.m. to 7 p.m.
Survey inspections on existing bridge
Mobilization at the exit 10 staging area
Support for river-based work from the Rockland shoreline
To see real-time monitoring of noise and particulates in the air near the bridge, NewNYBridge.com.
Photo: New TZB under construction, Aug 2013. Credit: Ray Wright