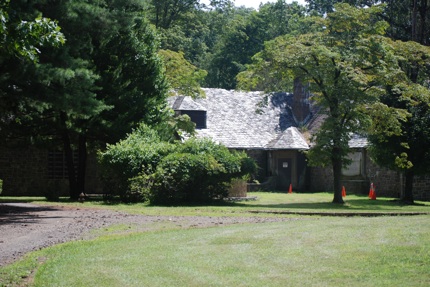 by Paulina Kanburiyan
The striking views from the hilltops at High Tor Park get a lot of attention, but there's one part of the park which hides a mystery whose origins go back over 70 years. In the 1930's, the New York Trap Rock Company threatened to spoil this beautiful space by quarrying the mountain's stone. Thankfully, the strong-willed owner Elmer Van Orden refused all attempts made by Trap Rock to purchase the land, which had been in the Van Orden family for generations.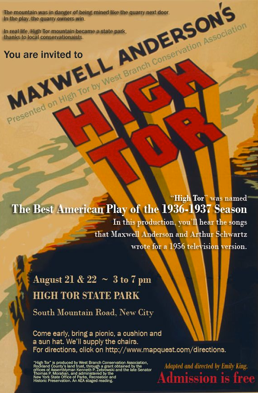 Elmer's neighbor, Maxwell Anderson, was inspired by Van Ordens battle to disrupt the efforts of the businessmen to convert the mountains into a quarry. Maxwell commemorated that struggle into an award winning Broadway play called "High Tor."
After his death, Hudson River Conservation Society, Rockland County Conservation and many other organizations raised twelve thousand dollars to purchase twenty-three acres at the top of the mountain.  In 1943, the land was given to the Palisades Interstate Park Commission (PIPC).
At the opposite end of the park, a simple yet intricately beautiful house stands proud despite its old age. It was thought to be the house where Elmer Van Orden lived with his farmhand Gus Weltie.  But that theory collapsed because The Youman -Van Orden house fell victim to a fire, and this house had no traces of damage.
It was soon realized that this is not the famous Van Orden house, but part of Archer Huntington's estate.  Archer M. Huntington was a wealthy art collector who was residing in Boston. Archer was approached for a $1,000 donation to help purchase Van Ordens property to prevent Trap Rock from quarrying the mountains, but with one condition; the Palisades Interstate Park Commission (PIPC) would also become the new owners of Archers 474 acre property, which included his 72 room mansion, which for some unknown reason was not needed by Huntington anymore.
Samuel Katz built the stunning English Tudor Mansion in 1929. The house was built with a swimming pool and a garden, and elegant stain glass windows.  It is rumored that Samuel built it for his girlfriend at the time. The stock market crashed that very same year, which allowed Huntington to purchase the house at a greatly reduced price.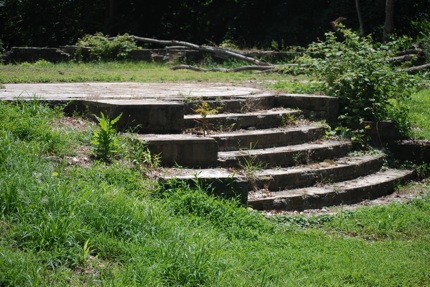 Sadly, the PIPC could not find a use for the mansion, and after many failed attempts to renovate the house, most of the structure was torn down because it was too costly to maintain it.
All that is left of the building are the servant's quarters that are being used for storage. A set of stone steps remain, leading to a once lush garden that is now wild and overgrown.
For more information on High Tor State Park, visit NYSparks.com.
Paulina Kanburiyan is a freshman at Albertus Magnus High School. She blogs at PaulinasPage.com.