by Katie Karkheck
What is this? For as long as I can remember, I have been puzzled about this structure just off the coast of the of Memorial Park in Nyack. "Is it a boat that was wrecked? Why is it there? Why would anyone make a boat out of concrete?" This is what would go through my head every time I walked by.

After scouring the Internet and the Valley Cottage local history collection, my only revelation was that others echoed my curiosity concerning this obscure Nyack relic. My next step was to turn to the Nyack Village Historian, who provided me with a lot more information. According to excerpts of the Nyack Village Board minutes, after the building of the Tappan Zee Bridge, Nyack Mayor John Kilby planned to extend Memorial Park, build a restaurant and a marina. Apparently, barges and concrete were intended to be sunk at the perimeter of the park extension and the rest was to be filled in. The restaurant would have been too expensive, so it never came to fruition. Unfortunately, while trying to make the extension of the park, someone miscalculated on the measurements and sunk the barges too far out into the water, so that the land couldn't be appropriately filled in. While this explained why the barge was there, I was still left wondering why anyone would build a concrete boat in the first place.
Using Google Earth I found that there was another structure there. Far more interesting, however, was that it was labeled "Erie Canal Concrete Boat." According to Schenectady County Historian Don Rittner, these concrete barges were made during WWI as an experiment in using materials other than steel to move cargo through the Erie Canal. The pictures on his site matched our local concrete barge! He mentioned that these barges ultimately failed, proving not to be very well planned. While concrete was inexpensive, it was extremely heavy and those that constructed these barges failed to anticipate how they would hold up under constant use.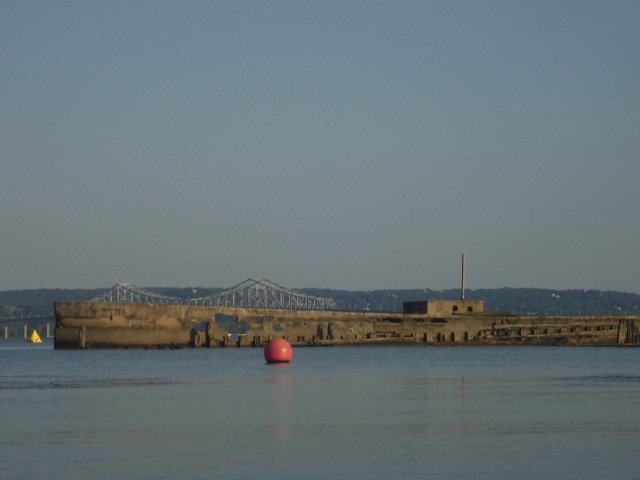 I came across the memoir of Richard Garrity, a former Canal Boatman, entitled Canal Boatman: My Life on Upstate Waterways. He wrote a bit about these concrete canal boats. It seems that the Nyack Barge was probably one of only 21 concrete barges that were made during this experimental period. The barges were 150 ft long, by 21 ft wide and could hold 520 tons of cargo. On their incredible failure he stated:
"The concrete barges were not much of a success commercially or otherwise. They drew four feet of water when empty compared to a wooden or steel barge's 18 to 22 inches. The sides were holed and sunk when they struck a solid object with a moderate force that would not have damaged a steel or wooden barge. And many of them were damaged or sunk along the canal between Albany and Buffalo. To the best of my knowledge, none of them had a useful life of more than three or four years."
The barge experiment to make concrete float — and the off shore miscalculation near Memorial Park — serves as a permanent reminder of Nyack's bizarre history.
Katie Karkheck is a reference librarian at the Valley Cottage Library. 
Photo Credit: Dave Zornow