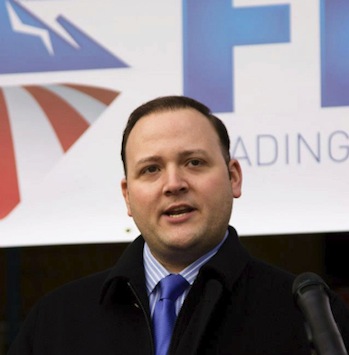 by David Fried, candidate for Rockland County Executive
Rockland County's budget deficit exceeds $125 million, it has the lowest credit rating of any county in New York State and our local economy still struggles to emerge from an unprecedented recession. The county needs to fix its problems now, not years down the road.
My opponent, Legislator Ilan Schoenberger, proposes the creation of yet another branch of county government, the Office of the Comptroller. A comptroller, Schoenberger contends, would solve the county's financial woes. But it's already the responsibility of the county legislature to act as a fiscal watchdog. In addition, the creation of a comptroller's office would take years to implement.
More government is not an option
Schoenberger's campaign literature touts the elected comptroller as the remedy for the county's problems. He says the office will "ensure that budgets are balanced" and would end overestimated revenues and underestimated expenses. But here's what Schoenberger won't tell you: during his tenure as Chair of the Budget & Finance Committee, he already had oversight over Rockland County's budget. In this capacity, he routinely negotiated budgets that had unrealistic revenue projections and miscalculated expenses.
The Democratic Primary for Rockland County Executive
will be held on Tuesday, September 10, 2013. Many polling places have changed since the last election cycle, so visit the Rockland County Board of Elections to find out where you should vote.
You can apply for an absentee ballot by mail as long as it is postmarked by Tues Sept 3, or drop off the absentee ballot request at the Rockland County Board of Elections as late as Monday September 9.
And you don't have to look far to find that comptrollers aren't always effective. Nassau County has an elected comptroller, yet New York State seized its assets twice in 15 years because of rampant fiscal mismanagement. All the Nassau Comptroller accomplishes is to add yet another layer of bureaucracy to a shaky county government already top-heavy with administrators.
Kicking the can down the road
Creating a new elected office isn't something that happens overnight, it can take years. And Rockland County doesn't have the luxury of time. Specifically, the creation of an elected comptroller position requires a public referendum. Absent a costly special election, this referendum would be held in November 2014. If the referendum passed, the position of county comptroller would be added to the November 2015 ballot, and the Comptroller would take office in January 2016. So, this "solution" does absolutely nothing to address today's deficit.
We need a new direction
We can't solve our problems with tired solutions that have failed elsewhere. We need to re-examine government. Rockland County is top-heavy with layers of upper and mid-level managers, many of whom take home exorbitant salaries, and nothing is being done to correct this problem. As your County Executive, no job will be filled until it's been audited and deemed necessary. And the large pay raises stop immediately upon my oath of office. I will reduce the county executive's salary — my own salary — by 20 percent and lead by example.
Like Schoenberger, I want a referendum. But unlike my opponent, I don't want to create more government, I want to shrink government. My referendum will ask the voters to cut the size of our 17 member county legislature. If one Nassau legislator can represent 50,000 people and a Westchester legislator can represent 37,000, why do Rockland legislators only represent only 18,000? If Rockland County is asking its residents to make sacrifices, shouldn't the county government make sacrifices, too?
When I'm county executive, I won't sign any budget that uses pie-in-the-sky revenue projections. We need to err on the side of caution, crafting budgets that assume more humble revenues. Like other Rockland residents, I've known this for years. We don't need a county comptroller to tell us that.
Rockland County has serious challenges ahead. The deficit and dubious credit rating are just the start. We can't solve these problems overnight, but we certainly can't put them off another two years. I am prepared to meet those challenges and lead Rockland forward again.
David Fried is a candidate for Rockland County Executive
See also: