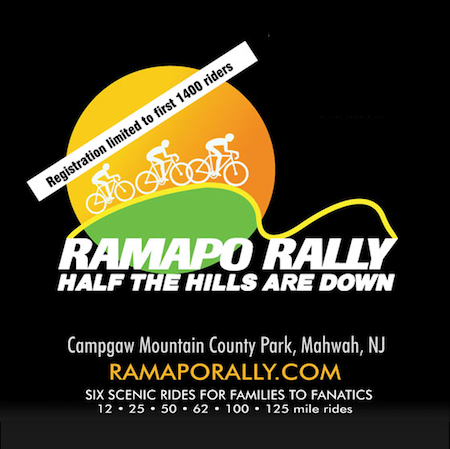 This weekend, see a part of New Jersey with more ups and downs than a Bruce Springsteen ballad. On a bike.
Join 1400 area riders at the 36th Ramapo Rally on Sunday August 18. The annual BTCNJ (Bicycle Touring Club of North Jersey) event introduces many cyclists to areas of New Jersey they have never seen before. Tree shaded country roads, gated estates, lakes and farmland unfold before the riders. The Rally starts at Campgaw Ski Area, Mahwah, NJ. There will be NO on-site registration so click now or forever hold your helmets.
Six different ride lengths are offered: 125, 100, 62, 45, 25 and 12 miles. Seasoned cyclists attack the hills in the Highland area of New Jersey in groups escorted by experienced ride leaders, or venture out on their own following detailed cue sheets and road markings.
Novice riders can participate in the 12 or 25 mile rides. Six well-stocked rest stops along each route provide cyclists with nourishment and comfort facilities. SAG wagons provide assistance to riders with mechanical or physical problems. At the end of the ride, participants return to the start site for a light meal (included) and a massage.
Sponsors will set up tents and tables to display their products or services and certified bike technicians will be available at the start site and rest stops for last-minute or emergency repairs.
A portion of the proceeds from the Rally support the activities of Camp Sunshine, a local facility for multiply- disabled children and young adults.
For more information, visit the BTCNJ Ramapo Rally Website.