by Claudia Lifton-Schwerner
Nyack High School and SUNY Oswego graduate Claudia Lifton-Schwerner won a Facebook contest to blog on behalf of Global Vision International (GVI) about their animal and environmental protection projects around the world. Her first stop was the Yucatan Peninsula of Mexico followed by Fiji. Her latest blog post is from Thailand.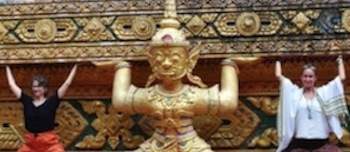 Two of the things I love most are family and Thailand, and I have had the pleasure of enjoying them both simultaneously. My mom came to Thailand for a ten day visit to finally see what life is like volunteering on the other side of the world. She came to the project with me a few times to really get a feel for what I have been doing for the past seven months. She came to observe our P4 health class and watched as I, and two of my fellow volunteers, taught the class about the respiratory system and the dangers of smoking. At the orphanage she joined in on the fun and played Uno and drew with the children as I chased the more rambunctious ones around the room. It was wonderful having her there. Being able to share such an important part of who I am with the most important person in my life was so special for me.
I had yet another incredible animal encounter at one of the entrances at Phang Nga National Park.
As we pulled into one of the look-out points, we noticed several wild Macaques (the same species of monkey I rescued in Laos last month) playing in the trees near the entrance of the park. It goes without saying that I was ecstatic to see these animals in their natural habitat, rather than in a cage or being used as tourist attractions. I sat on the pavement to watch the community of over twenty animals run and jump through the trees. One of them noticed my interest and inched towards me with curiosity. I sat quietly and calmly until he was within only a few inches of me. Suddenly, five or more monkeys were surrounding me, with more on the sidelines watching. I mimicked their movements to make them feel more comfortable – when one put its head to the pavement, I did the same, when one stretched out its arm, I did as well, and when they scratched their underarms, I took part (very awkwardly, might I add).
Finally, I was accepted as one of the troop, and I spent a good half an hour holding hands and making conversational sounds with our closest relative. It was such an amazing experience!
This weekend my mom and I are going to the island Koh Samui for a yoga retreat. She is a yoga teacher in New York, and she knows a yoga teacher here in Thailand. Lucky for us, she now lives and teaches at Yoga Thailand on the beautiful island of Samui, so she is allowing us to stay with her. Sometimes it comes in handy to have a yoga teaching mother!