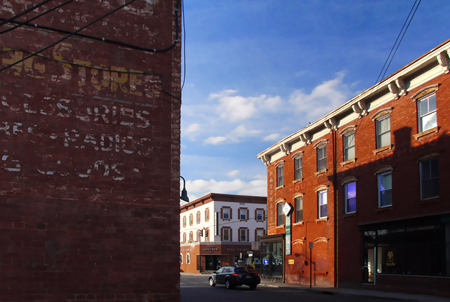 by Bill Demarest
The Nyack Village Board approved financing on Thursday to repave local streets. The village will borrow approximately $1 million to pay for street maintenance, purchase new paving equipment and begin improvements to Nyack Brook and Memorial Park.
The street improvement project kicks off with roadway milling to grind up existing pavement on Monday, Sept. 9. Paving begins one week later on Sept. 16. The streets effected include:
Broadway, from First Avenue to Cedar Hill Avenue
Burd Street, from Franklin Street to Washington Street
Franklin Street, from Main Street to Depew Avenue
First Avenue, from Gedney Street to North Franklin Street
Polhemus Street, from NYS Route 59 to High Avenue
Much of the borrowing – a short-term loan that is expected to be converted into a longer-term loan – goes for the purchase of $457,000 worth of heavy equipment to replace aging equipment at the Nyack Highway Department. Local street repaving accounts for $255,000 of the approved loan.
New York State is picking up part of the tab for repaving Polhemus Street, which regularly takes a pounding from cars and trucks getting on the NYS Thruway at Exit 11 on High Avenue.
The Village Board also approved financing to cover three additional projects:
$97,000 for improvement of the Nyack Creek Culvert
$77,000 to move the existing gazebo on the lower level of Memorial Park as park of the ongoing park improvement project.
$47,000 for the purchase of emergency generators to provide power for village facilities during blackouts. During Hurricane Sandy, village officials were left trying to run a command center at Nyack Village Hall using power that came from one lone power outlet.
Bill Demarest blogs about news in Nyack and Rockland County at NyackFreePress.blogspot.com.
Photo: Early morning light at the corner of Franklin and Main Street. Credit: ©2013 alison perry