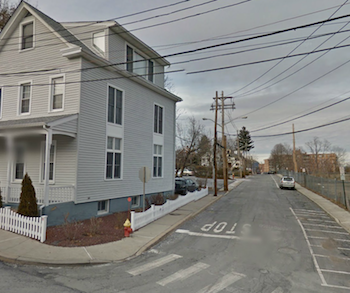 by Bill Demarest
Nyack August 30 — A man and a woman were briefly trapped in a car that rolled onto its side late Friday night on Gedney Street at the foot of Main Street in Nyack.
The driver and passenger were injured, but conscious, after their crash and were both taken to Nyack Hospital for treatment, according to Nyack Fire Chief James Weck.
The accident took place about 9:50p as a car was heading north on Gedney Street. When the car overturned, it struck another car that was parked on Gedney Street.
About 20 Nyack volunteer firefighters went to the crash scene, along with Orangetown police and crews from Nyack Community Ambulance Corps, South Orangetown Ambulance Corps and Rockland Paramedics. Weck said that the couple in the car could not get out and Nyack volunteer firefighters had to use cutting tools to free them from the wreck.
The man and woman were removed from the car and turned over to the medical crews at about 10:08p, Weck said.
Although the car was overturned and hit a parked car, there was no fuel spill from the wreck. No one else was injured in the incident.
Weck said he did not know what caused the accident or how the car overturned on what is usually a quiet street that has few unusual incidents.
Bill Demarest blogs about news in Nyack and Rockland County at NyackFreePress.blogspot.com.
Photo Credit: Google Streetview