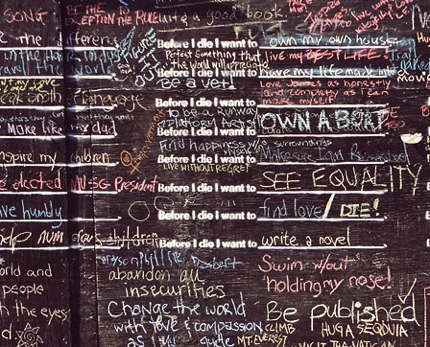 This month's First Friday features an international interactive public art project "Before I Die," The Best of Nyack Sketch Log by Bill Batson at Nyack Village Hall, live music, street poets and exhibits in 34 downtown businesses.
Before I Die is a global art project that invites people to reflect on their lives and share their personal aspirations in public space. Everyone is invited to chalk their own personal bucket list on a wall, completing the phrase, "Before I die I want to _________."
The first Before I Die wall was created by artist Candy Chang on an abandoned house in her New Orleans neighborhood after losing someone she loved. If you want to add your hopes and dreams to this growing global wish list with submissions from Kazakhstan, Portugal, South Korea, Denmark, Australia, Kenya, Argentina, and South Africa, gather at the Main Street Gazebo.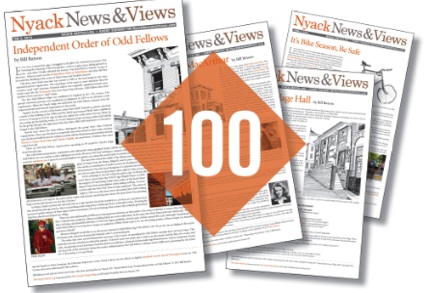 There will be a reception from 5:30 -7p at Village Hall for The Best of Nyack Sketch Log, the other featured event this month. The exhibit commemorates artist and writer Bill Batson's 100th weekly sketch and short essay about a person or place of interest that is published each Tuesday on NyackNewsAndViews.com.
Here is a guide to the Nyack Art Collective's First Friday September:
Music  at the Main Street Gazebo
Exhibition Venues
Main Street (above Franklin Street)
Cafe Barcel: 162 Main St
The Franklin Antique Center – Elaine Schloss and Chris Machin: 142 Main St
Nyack Tobacco Co.- Tony Ziegler: 140 Main St.
South Franklin Street
Night Owl: 4 S. Franklin Street
Eyevolution – Cynthia Shaw: 42 S Franklin St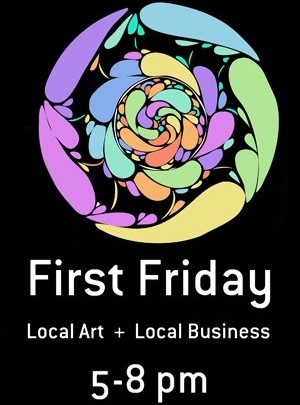 Main Street (below Franklin Street)
Cloud 9 – Lawrence Hultberg: 120 Main St
Sign of the Times – Shawna Handke: 112 Main St.
Casa del Sol – Graceanne Malloy: 104 Main St
Little Flower Shop – Sandy Levine: 95 1/2 Main St.
Harry's Burritos – Jamie Gaviola: 90 Main St.
Johnny Apollo: 88 Main St.
Alains Express –  Graceanne Malloy: 88 Main St.
P. Ross: 89 Main St.
Johnny Cakes: 84 Main St.
Temptations – Tony Ziegler: 80 1/2 Main St.
Starbucks: 80 Main St.
The Nyack Art Collective seeks to:
AFFIRM the importance of art & creativity in individuals & the community
CREATE a visible and recognizable unified body of local visual artists
FOSTER UNITY & INTERACTION among artists and the community
PROVIDE networking opportunities
ENCOURAGE one another's artistic pursuits and goals
SUPPORT individual and community growth & awareness thru the arts
PROMOTE the marketing and sale of our work
INSPIRE each other and the community of Nyack, as a whole
North Broadway
Edward Hopper House Art Center: 82 N. Broadway "Small Matters of Great Importance"
Lorybird:Colleen McGowan:  23 N. Broadway
Gena Lisa: 17 N. Broadway
Nyack Village Hall – Bill Batson, The Best of Nyack Sketch Log: 9 N. Broadway
South Broadway
Chocolaterie – Donna Timm: 6 S. Broadway
Pickwick – Nina Berlingeri: 8 S. Broadway
Sweet Spot- Lisa Wheeler and Natalie O'Donnell: 11 S. Broadway
Colin Holmes: 13 S. Broadway
Saffron trading Co. – Natalie O'Donnell: 14 S. Broadway
Art Café – Cayla Morganstern: 65 S. Broadway
Sanctuary: 60 S. Broadway
Pizza Bistro – Cass McVety: 64 S. Broadway
ML Gifts – Laurie Peek: 75 S. Broadway
Maria Luisa – Jessica Butler: 77 S. Broadway
RJ's – Leigh Anne Eagerton: 81 S. Broadway
Mind Over Matter – LcNash and Bill DeNoyelles: 81 S. Broadway
Vincent's Ear – Tracy Kachtick-Anders: 85 S. Broadway
Burd Street
Burd Street Café – Kenneth Burns: 78 Burd St
Hudson Avenue
Gagliardi Studio & Gallery: 39 Hudson Ave