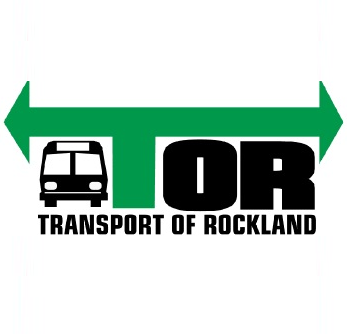 The new Orangeburg Commons on Route 303 has earned it's own bus stop. The Super Stop and Shop strip mall adjacent to Lowe's will be served by TOR Route #97. The bus waiting area within the Commons includes a bus shelter, benches, and an accessible sidewalk ramp to the Stop & Shop entrance.
TOR route #97 operates Monday through Friday from 5:30 AM to 7:30 PM. The route connects Stony Point, West Haverstraw, Haverstraw Village, Congers, Valley Cottage, Palisades Center, Blauvelt, Orangeburg and Tappan.
In Haverstraw, TOR #97 will now deliver bus service to Maple Avenue and Riverside Avenue, connecting with Route 9W at the south end of the village via the Short Clove Road bridge. Riverside Avenue is home to the Haverstraw-Ossining Commuter Ferry parking lot and Harbors at Haverstraw housing complex. TOR #97 will pass by those locations, providing pedestrian access via the entrance roads. Maple Avenue also includes apartment complexes and Haverstraw Village municipal buildings. Pick up and drop off times may be a few minutes different from the current schedule.
You can see all Rockland County Dept of Transportation routes at RocklandBus.com. To see a simplified one click schedule for the Tappan Zee Express commuter bus to the Metro North train station in Tarrytown, visit tzxBus.com.