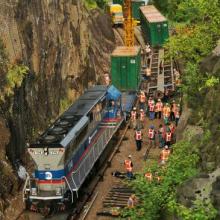 Metro North will operate a regular Hudson Line schedule with scattered delays of up to 15 minutes on Monday, July 22 due to limited operating capacity. The Hudson Line is still recovering following a freight train derailment in the vicinity of Spuyten Duyvil station on Thursday.
For updated information on the Hudson Line service restoration and all Metro North trains, visit New.MTA.info/mnr.
Here's the latest statement from the MTA on its progress to restore service after the derailment:
Crews have been working under very difficult conditions.  The site of the derailment is in a narrow rock cut making it impossible to work alongside the derailed cars.  The weather, with heat and humidity reaching dangerous levels, has made it more difficult for crews.  The following conditions have also made the removal of the freight equipment extremely challenging:
Garbage containers have tipped over or fallen off the flat cars carrying them blocking access to the track area.  Freight cars are out of position and off the tracks.

Because of the lack of clearance, cranes require many moves to get the freight equipment back into position for removal from the site.

Crane outriggers (that stabilize the cranes) need to be set up, taken down and reset in different locations to support each move of the cranes.

Some freight cars need to be rebuilt underneath so their wheels and trucks are operational.  Only then can they be re-railed for removal.

Before some freight cars can be re-railed, the tracks in front of them also need to be rebuilt.

Some freight cars need to be dug out of the ballast before they can be reassembled and re-railed.  Due to the narrow space, this work has to be done by hand since there is not enough space for equipment to assist with this effort.

Due to the site constraints and challenges, we are undertaking a variety of different methods to re-rail the equipment.